"Science, fish, ichthyology, where will it all lead me?" – Helen Dobson

When Creature from the Black Lagoon was released in 1954, it was a hit. It had a great story, if not entirely original, then at least it was presented in a fresh way. It had the benefit of the old red and blue anaglyph 3D process, which by all accounts is stunning to watch (sadly, I've never seen the film in 3D, but I'd love to). And it had a great new monster. So, no big surprise that Universal greenlit a sequel, which was released the following year.
Sadly, the rapid turnaround didn't seem to give the creative team much development time and what we get as a result has several interesting elements, but overall, a retread of what we've seen before. It's pretty much the same "beauty and the beast" story all over again.
Jack Arnold returned to the director's chair – and Arnold is one of my favourite 50s sci-fi directors with It Came from Outer Space, Tarantula and The Incredible Shrinking Man to his credit. Revenge of the Creature became the first sequel to a 3D film to be also filmed in that process, and again, Ricou Browning returned to his role as the underwater Gill-Man, providing some incredible underwater miming, which effectively convey the Creature's emotions.
The Creature suit was slightly altered this time around – the original was designed to hold some air and assist Browning in some of his longer underwater scenes despite the fact that he could hold his breath for over four minutes. This had a larger headpiece that allowed the swimmer to have some air supplied to him which meant that unfortunately, due to the design, a stream of bubbles can often be seen emanating from the top of the Gill-Man's head as he swims. It's pretty distracting.


As the story starts, we are once again, on a tramp steamer heading down the Amazon in search of the creature that was discovered and killed last year. The steamer is called Rita II and is once again captained by Lucas (Nestor Paiva) a recurring character from the first film, who keeps trying to warn the two-man expedition that they don't really know what they're getting in to. But they insist they're equipped to capture the creature, if he still lives. (He does, because in his first scene in the film, we see the Gill-Man pounce out of the water and grab an unsuspecting bird on a log for his meal – it's a surprising and memorable scene).

So, they get to the Black Lagoon, drug the water, Creature bobs up to the surface unconscious, he's caught without incident and taken to a Marine Park in Florida. There, he's examined by animal psychologist Professor Clete Ferguson (John Agar) and ichthyology student Helen Dobson (Lori Nelson). It's here that the film both has its high points and simultaneously grinds to a juddering halt.
The Creature is kept manacled in a tank – and Ricou Browning, despite the limitations of the suit and the expressionless headpiece, manages to express the Gill-Man's hopelessness and despondency, by mime and body language alone. He looks really defeated sitting at the bottom of the tank. (Or, of course it could be that he's a fresh water creature dropped in a salt water tank and he's dying - because those are sea creatures all around him.) He seems dispirited and broken until he manages to break loose.

Well, of COURSE he's going to break loose – and that's what we're all waiting for, but before he can do so, Browning's amazing and subtle performance underwater is tempered by a clumsy fifties' movie romance brewing between the Professor and the student. Complete with fifties era romantic dialogue. And it goes on. And on.
But – the Creature has ALSO noticed the pretty young student and feels the urge to pick up where he left off with Kay, the scientist's squeeze in the last film. So, he breaks out, and escapes out to sea causing panic and havoc, scaring kids and overturning cars as he goes.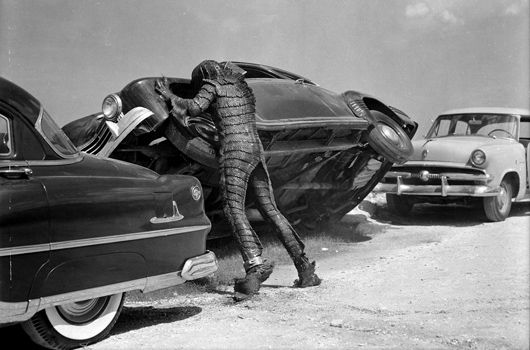 Believe it or not, even the stunning underwater ballet is replicated here, thus proving that this sequel is little more than a remake of the same script with a different location.

Just as before – he abducts the girl, who is saved just in time and the poor Creature is once again subjected to a hail of bullets and sinks lifelessly to the bottom of the sea – in the final plagiarising insult – the exact same footage of the sinking Gill-Man from the first film is re-used.
Some nice scenes as I say, but essentially the same script and story beats as before.


Copyright © 2010 - 2020 Robin Pierce. All Rights reserved.