Welcome to the fourth annual Shocktober movie festival.
What's really scary is thinking back and realising how long I've been doing these things. This is the fourth "formal" one. Before that, it was kind of a looser thing that I ran for a few years from my old MySpace page. My, oh my - remember MySpace? Anyhow, that page is still there is you care to take a peek.
So, 2010 was the first year that Shocktober really tightened up and became a proper annual event that encompasses the whole month of October, finishing up appropriately on Halloween itself - the anniversary of the launch of this site. Depending on what you think of my writing, the either good or bad news is that I've renewed the contract for the site with my host for another year so neither I nor my site are going anywhere for quite a while yet.
So, Shocktober IV - what have I got in store for you THIS time?
Well, we've done haunted houses, Wes Craven films and movies actually set on or around Halloween. This year, I'm celebrating the cinematic works of the greatest horror writer of our generation - Stephen King, so "King of Horror" is the theme. I'll be taking a look at some of the better AND lesser known adaptations of his horror novels. Note, "horror" - sadly, that excludes his really epic prison stories The Shawshank Redemption and The Green Mile as they're not strictly speaking horror (horrific though the experience of being on death row and indeed, prison in general might be) I'm concentrating more on supernatural horror here, in the spirit of the month of long shadows, the end of daylight saving, chilly evenings with a full moon and the sound of an owl in the distance.
So, with that in mind - let's get this ghoulish goulash bubbling away with a look at one of my all time favourite pieces of TV - ever.
Salem's Lot (1979)
"You'll enjoy Mr. Barlow. And he'll enjoy you." - Richard Straker
I remember clearly seeing Salem's Lot on its first publication in paperback on the shelves of our local W.H.Smiths back when I was still in school (and back when we actually had a Smiths in my home town) in the mid '70s. I had previously seen Stephen King's name on a book titled Carrie - and I'd dismissed it. The reason I dismissed it was because it was back in the day that The Exorcist ruled the box office and it seemed that every horror film HAD to be about the demonic possession of a young girl and bookstore shelves seemed to be groaning under the weight of a flood of novels all about these sad unfortunates and the titles were all Audrey Rose or some such innocent sounding name. To me, back at that time, Carrie just seemed to be another one of those. (Boy, how wrong was teen aged me? )
Salem's Lot had a black cover and embossed on that cover was the face of a girl, with a drop of red blood at the side of her mouth. I can't recall seeing anything that made me think it was a vampire novel, I assumed it was another possessed girl story, so back on the shelf it went and my eventual lifelong habitual reading and adulation of Stephen King was postponed for another handful of years - actually until I saw Carrie at the cinema. (But more on that later on in the month).
It was midweek late in 1979 that Salem's Lot turned up on the BBC in the 9:25pm slot, just after the evening news. Two things immediately made me want to check it out. The fact that it was based on that Stephen King book I remembered seeing years before and STILL haunted the Smiths shelves which had now been re-released with a purple cover and some artwork from the TV mini series showing a menacing figure with his arms outstretched. (I know you can't judge a book by its cover but this one seemed so much more appealing to me.) The second factor was that this mini series, and there were a lot of them around at the time, was directed by Tobe Hooper. I knew his name from Texas Chainsaw Massacre - a film that I hadn't seen, nor would I for several years. It was banned outright in the UK and refused a certificate by the BBFC. I knew about it because I was an avid reader of Dez Skinn's House of Hammer magazine (a precursor to Starburst, which Dez also founded). So, really - the normally ultra conservative, prim and proper BBC showing a horror mini series directed by Hooper was almost too good to be true.
Thing is - I still had no idea it was about vampires.
It's a two parter, structured so that the first half is the slow burn build up, starting in the modern day in Ximico, Mexico with Ben Mears (David Soul) and Mark Petrie (Lance Kerwin) in a church, filling up a small bottle with Holy Water which immediately turns a phosphorescent blue. Something has found them! Cue the titles.

The titles themselves are shown over the gradual reveal of an imposing and evil looking house in a rural setting as night becomes day. The rest of the story is told in flashback as recently widowed novelist Ben Mears revisits the small New England town of Salem's Lot, where he had spent his childhood. In the novel, there's more of a point made that the house from the title sequence "The old Marsden House up there on the hill" has somehow called to Mears, as much as it has called to the partners who've managed to rent it just before Mears came back. Richard Straker (James Mason) is the front man. His partner Kurt Barlow has yet to appear.
This is James Mason as his sly, menacing best. His performance oozes evil in every purred word, every nuance and gesture. He's threatening even when he's not actually uttering a threat. (In my opinion, this performance is right up there with my other favourite of his, the iconic Captain Nemo in Disney's 20,000 Leagues Under The Sea.) Staker (dressed in his dapper black suit and driving a virtual tank of a black late fifties/early sixties Cadillac) is setting up their retirement business of an antique & curio shop, while Barlow is on an overseas trip and will follow on.
Mears arranges to stay in Eva Miller's boarding house and settles down to write about a house that is a beacon of evil. Coincidentally, his room has a direct line of sight view of the Marsden House (though it sometimes appears a lot closer than others.) He meets young schoolteacher Susan Norton (Bonnie Bedelia - long before she became better known as Bruce Willis's estranged wife in the Die Hard movies) and reintroduced himself to his old childhood mentor English teacher Jason Burke (Lew Ayers).
It's not long before kids begin to go missing.
The Glick brothers are on their way home from a school performance rehearsal with Mark Petrie when they're attacked. One is abducted, the other staggers home and collapses. The following night, self styled Romeo Larry Crockett is also attacked when run out of the house of his adulteress secretary by her husband. He is found dead by the lakeside by Mears and Susan. Something evil has come to Salem's lot and Mears fears he may be the catalyst.
The horror shifts up a gear when the surviving Glick brother is visited at night in the hospital by his dead sibling, floating outside the window begging to be allowed in. When he's given permission he hungrily feeds on his brother who is found dead the following morning.
At his funeral, as the mourners depart, gravedigger Mike Ryerson (Geoffrey Lewis) feels an urge to jump in to the open grave and open the coffin. As it gets dark, Ralphie Glick sits straight up and attacks.
As I said, this opening half of the mini series is a scene setter, but one that's filled with an aura of inexorable evil as something extraordinary is happening is a small town filled with a population that is, at it's heart, completely ordinary. Salem's Lot with its close knit community and it's inbred nature could be anywhere, any small rural town where a disease could hit and really - outside of the town, who'd even notice? And that's where the REAL horror lies.
After the first half, the second is more in the way of a traditional horror movie because the characters know what they're dealing with. But having said that - the second half has more than its fair share of memorable moments, particularly when you take in to consideration that this production is now 34 years old and was made for TV at a time when less could be got away with particularly in terms of horror content, and this was to all intents a Hammer film made for TV when Hammer films and their ilk were still attracting the dreaded X or its replacement 18 and were consigned to the twilight zone of late night programming.
Salem's Lot is becoming depleted. A vampire feeds and spreads the curse, so one becomes two, two become fore, four become eight and as we begin the second episode, the geometric progression mans the untainted are an endangered species but are very much on the menu. The Glick boys mother has become infected by her own undead son, Mike Ryerson has become a vampire, his transformation happening as he's a house guest of the elderly Jason Burke. He dies one night, and on the next he's sitting in a rocking chair with his eye glowing, hissing his unholy intent. The Ralphie Glick appears, floating on could of mist, scratching at Mark Petrie's bedroom window, but luckily Mark's enough of a horror movie geek to ward the vampire off by using a cross from an Aurora models graveyard diorama.
Through all this, Ben Mears is in hospital with a concussion having been beaten up by Susan's none too happy ex boyfriend, who is himself infected while cooling off in the town jail. Parents will be parents - especially when they're as boring as the Petries and refute Mark's "weird" interests in horror movies, and attempt to stage an intervention with the local priest, which is interrupted in a scene (which I challenge you not to have jumped the first time you saw it) where Barlow shows himself.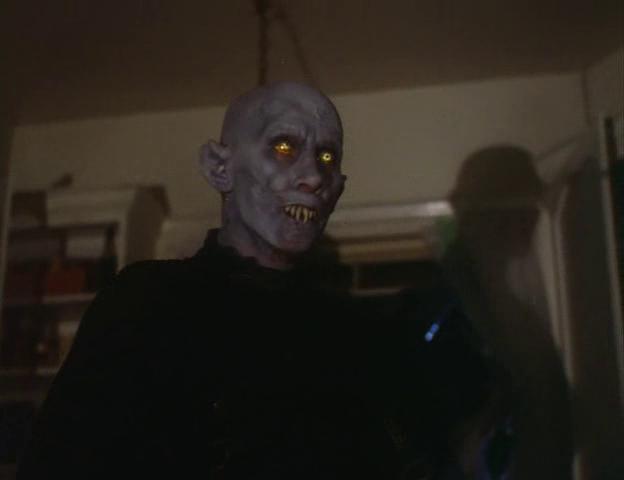 He's a tall, bald heavily fanged vampire very much inspired by Max Schreck's appearance in Nosferatu (1922). He kills the older Petries by brushing their skulls together effortlessly but the mocking, leering Straker offers a chance for the boy to survive... IF the priest cares to challenge the vampire, his religion against vampirism. The boy runs as the priest's cross is crushed in the vampire's hand and discarded.
One of the most memorable and disturbing scenes has the recovering Mears in the hospital morgue with Susan's father while the late Mrs Glick wakes up from beneath the sheet. He hurriedly fashions a cross from two tongue depressors and tape, while quoting the only prayer he can remember. When Mrs Glick removes the blanket, her hair is lank and lifeless, her skin is a purplish hue, her eyes glow and her fangs protrude. Cut on her arms with a scalpel, the flesh beneath the skin is a yellowish green bile colour and looks putrid. Staked, she simply disappears into oblivion.
Mark and Susan head separately for the Marsden House for the final showdown as does Mears. Straker, in the meantime while not a vampire himself, is busy running interference with our heroes until the sun sets and Barlow can rise. Susan is pretty quickly caught and kept for Barlow. Mark is similarly kept, probably in case Barlow needs a snack. Needless to say, David Soul, fresh from his run on Starsky and Hutch still manages to stake out the bad guys and the whole town goes up in flames while Mears and Mark make their escape thus providing a bittersweet happy ending - Susan isn't with them.
But hold on, just a cotton pickin' minute.... That was all a flashback, right? In the present day, they're in Mexico and the blue Holy Water has tipped them off that they've been found and as they make their way back to their shack, it's Susan who's waiting for them, wanting to infect Mears and makeher a vampire like she now is. Having put her out of her misery, Mears and Mark wearily prepare to move on....again, as the full moon above them briefly has the skeletal face of Barlow.
I've always considered this a high point of TV mini series and age hasn't diminished its impact, neither had repeated viewing. I habitually watch this in the summer and to be honest, have lost track of the number if times I've seen it. I taped it when it was repeated in summer 1984, then when that tape wore out, I bought the official VHS release, and then upgraded to DVD. Of course the drawback with DVD is also the advantage - you get to see exactly how much the BBC had trimmed back in the seventies and eighties. But the DVD I link to below is the full version and is there in all its two part glory as Hooper intended. I can't recommend it highly enough. There IS another, later version, with a different cast which I understand is truer to the book and retains scenes that weren't included in this original version, but this is the one I've enjoyed for close to three and a half decades. It's a classic and has withstood the test of time.

Click here to buy Salem's Lot on DVD.
Coming up next - we get REALLY nasty with Pet Sematary.
 Copyright © 2010 - 2013 Robin Pierce. All Rights reserved.