"Natural causes... Natural causes... Natural causes... I hate natural causes! Give me a big stab wound to poke at and then I'm happy." - The Coroner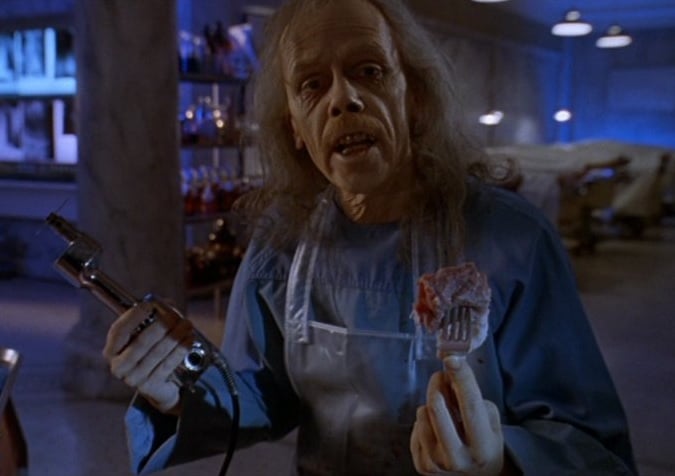 What's Halloween without a John Carpenter movie? And this year, I've dug deep and unearthed a real treasure. Body Bags is the John Carpenter film that most people either haven't heard of, or haven't seen. It's a fun horror comedy, mixing real horror and real comedy. (I find that a lot of horror comedies leave out the horror and home in on usually cheap laughs). It's also a little sad – because it's the last really good horror movie by either Carpenter or Tobe Hooper. Controversial? Maybe – but consider this, what of Carpenter's work since '93 is of the calibre of Halloween, The Fog, Escape from New York or The Thing? Similarly, Tobe Hooper, nothing on the scale of Texas Chainsaw Massacre, Funhouse, Salem's Lot or Poltergeist. Both directors seemed to suffer a lull after a spectacular run of hit, seminal horror movies that set the standard. Body Bags show us that both of them still had it.
So, what's it all about?
It's an anthology film, a pilot for a proposed horror series for U.S. cable TV to follow in the rotting footsteps of Tales from the Crypt, or Rod Serling's Night Gallery, where a host introduces a different horror story each week. But whereas those earlier series I mentioned had the Crypt Keeper and Rod Serling doing the honours via a storybook or wandering around a darkened art gallery, Body Bag's gimmick was going to be a ghoulish Coroner telling a story about the corpse he was dealing with and how it came to be in the morgue. The attendant was played by Carpenter himself, hamming it up to a level that would've made Vincent Price blush.
There are three stories – all unconnected, two directed by Carpenter, the final one by Hooper.
The Gas Station: It's Anne's first night on the night shift at a gas station just outside Haddonfield (familiar to fans as the setting for Carpenter's Halloween). She is warned by Bill, her co-worker, not to leave her booth without the key because it'll lock behind her and she'll be unable to get back in. Not only that, but there's a serial killer on the loose, having escaped from a local mental institution.
It's the ideal setting for Carpenter to ramp up the tension which is his trademark, backed with his unsettling synth score giving a sense of foreboding, as each customer who arrives could well be the escaped maniac – among the customers is Nightmare on Elm Street director Wes Craven in a cameo.
Of course, Anne gets locked out and of course the serial killer shows up and there's a prolonged chase through the deserted workshops. It's surprising who the serial killer actually is, though. When the clue is given, you can't help but feel that sinking feeling in your stomach.
Hair: More comedic than the first segment, Richard is a middle-aged man whose biggest mortal fear is upon him. Horror of horrors, he's losing his hair – and no amount of hairspray, combovers, dye or even toupees will stop it. However, there is a miracle cure at the office of the mysterious Dr Lock. After his treatment, Richard finds his hair growing uncontrollably, at a rate he can't keep up with. And it's spreading. A hair he cuts off his tongue actually screams – and under a magnifying glass, it's seen to be a serpent-like being.
Becoming sicker and more run down by the hour, he approaches Lock for help, he finds himself a prisoner. Lock and his nurse are aliens, preying on narcissistic humans to host their kind. The invasion has already started.
The Eye: Leave it to Tobe Hooper to deliver the final flourish. Brent Matthews is a baseball player on the cusp of a glittering career when he loses his eye in a car crash. He takes up the offer of experimental surgery to have an eye transplanted. When he leaves the hospital, he starts having nightmares about killing women. Turns out his new eye came from an executed convicted serial killer and necrophiliac who murdered several women and had sex with their bodies. It seems the spirit of the killer is possessing Matthews and is eager to go on another killing spree – starting with Matthews' wife.
In a moment of sanity, Matthews regains control but realises that it's only a matter of time before the killer takes control again, so he stabs the eye with garden scissors – and unfortunately, dies.
Well, did you expect a happy ending from Hooper?
Copyright © 2010 - 2019 Robin Pierce. All Rights reserved.