And we're back, having seen off 2021. There wasn't even a Good Bad & Fugly list last year, due to cinemas having been closed, re-opened for a few weeks in the summer and then promptly closed again. What I saw, I made a "best of" list that I incorporated into an overview of the year as a whole. (If you're curious – it's here)
2021 was a better year. Not perfect, but I guess as good as Plague Year 2 could be under the horrendous global circumstances. Cinema visits were off the table under the national lockdown that was with us from Oct 8 2020 until May 19, 2021 – when I proudly drove to the multiplex to see a movie. ANY movie. (Turned out to be Mortal Kombat, which made a great start to the cinema year.)
Lockdown also nudged me in the direction of watching more of the streaming channels, and their original films – so beginning this year, I've decided to include original streaming movies on the list.
So, welcome to The Good, The Bad and the Fugly 2021.



10 – Fast & Furious 9
Yes, you read that right. I have a Fast & Furious film right up there at #10. This franchise is, I guess, a guilty pleasure for me. I've been saying for a while that since the Bond films became more serious in tone, the Mission Impossible films have replaced the Bonds in sheer entertainment value, and the F&F films are the new Mission: Impossible.
In the latest outing, the previous street racing gang of hijacking thieves and adrenaline junkies find themselves once again working covertly for a secret government department, racing through various cities in a way that isn't covert at all, they even end up orbiting the Earth – in a car, AND they have to deal with the unexpected reappearance of Dom's never before heard of brother Jacob played by John Cena. It's a rollercoaster ride, where cars routinely defy the laws of physics and was a welcome return to pure "fun" cinema where I just sat back and enjoyed the ride – wherever it took me. It made me forget about the tough times outside in the real world. And that, to me, is the magic of cinema.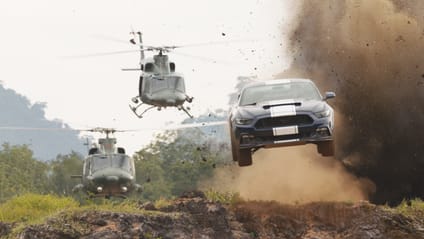 9 – No Time to Die
There was an immense satisfaction to seeing this. It was the first film to have its release postponed, back in late 2019 and it became a kind of barometer as the release was delayed several more times. Seeing it was kind of a breakthrough, like when I got my first vaccine shot. A step forward to normality. A barrier being breached.
It brought audiences back, but not fully. In late September, people seemed still a bit wary of going to the multiplex. But still, it was a long stride in the right direction. As for the film? Well, I've been a bit disappointed with the Craig run, and this was the last time we'd see him in the role. It had been so long since I had seen ANY Bond film that in the weeks leading up to this release, I watched all the Craigs, in sequence, a week apart. And I made an important discovery. They work far better without a three or four year gap between them – even (and I can't believe I'm saying this) Quantum of Solace makes sense. (Even if it IS a transition film between Casino Royale and Skyfall.)
I have accepted the Craig Bonds as a standalone series with an origin, middle and ending. Just like I accept the Nolan Dark Knight trilogy. Craig isn't the same character as the one who met Dr No or Goldfinger. It's a different Bond in a different world. I finally accepted that, and I was much happier for it. And I loved seeing the Aston Martin performing wheel spinning donuts while blasting bad guys with Gatling guns the popped out from behind the headlamps.



8 – Free Guy
Ryan Reynolds is just one of those engaging film stars that almost invariably please audiences (I say invariably because I'm in the minority that loved Green Lantern, but I haven't forgiven him for Detective Pikachu) Here, Reynolds plays a non-playable character in an online videogame. One of those computer-generated background characters. But he gradually becomes aware. He starts to act independently, and to question. It's a mixture of concepts from Tron, The Truman Show and Ready Player One – and it works. It's an incredibly great looking film with heartfelt (and gut-bustingly funny) performances, particularly showcasing Reynolds' gift for comedic timing and delivery.



7 – Old
This one hit home, and hit hard.
On the surface, it's a film about a weird beach, where visitors age rapidly and any underlying health issues become wildly accelerated into a visually disturbing circus of body horror. But it's an M. Night Shyamalan film, so there's more to it. It's a hard look at ageing. At parents who see their children become adults, and how they deal with the realisation that time is fleeting and everything changes. Moreover, it's a look at how children as adults become carers for their parents as their bodies and faculties fail. The film is eerie, disturbing, shocking, beautiful and emotionally resonant and I rate it as Shyamalan's finest to date.
At 61 years, maybe it hit home because of my age. I've seen my kids grow up into adults. At any rate, this is a film that was still on my mind days after the screening. It has that power.



6 – Oxygen
Netflix brought this amazing French SF film to our screens. Originally title Oxygene, it's a story set in real time, where the central character has the film's 100-minute run time to solve her dilemma. Melanie Laurent is an astronaut whose cryogenic chamber opens ahead of time. She doesn't know where she is, how she got there – but she knows she has 100 minutes of oxygen to solve these mysteries and to find an oxygen supply. BUT – if she panics, there's a robot armature in her chamber, ready to sedate her – which would mean certain death. Great story, great visuals, outstanding performance by Melanie Laurent who carries the whole film.
I've seen some great films on streaming in 2021, but this is ahead of all of them by a light year.

HALFWAY HOME – READY FOR THE TOP FIVE?
5 – Freaky
I love slasher films, another guilty pleasure. I know they're formulaic, I know they're repetitive, and I know they're largely misogynistic. Basically, older male chasing teen female with large knife, usually on a holiday of some sort. Virgins survive, the rest are dead meat. There's not much manoeuvring room to add anything new or original.
Until now.
An unlikely pairing of a typical slasher movie formula with a live action Disney film plot, in this case Freaky Friday, results in a genuine horror comedy that really works better than it should have. Vince Vaughn is the killer "The Butcher", who body swaps with would-be victim Millie (Kathryn Newton). So, the would-be victim becomes the heartless, cold killer now enjoying her new-found anonymity, while The Butcher is flailing around, helplessly trying to convince everybody she's after him (and she is.)
4 – Halloween Kills



I didn't see this one making the list either. And I certainly never thought it'd place so highly.
Cards on the table – Halloween, the 1978 original, is my all-time favourite horror film. Has been for years. (My review of a revival screening is right here). I've seen a couple of strong sequels. I've seen some really, REALLY bad sequels. I've seen a so-so reboot. Essentially, I was never expecting the twelfth film in a franchise to be THIS good. I was hoping to enjoy it, certainly – but wow. This was something else.
Following on from Halloween (2018) which was a direct sequel to the then 40-year-old original, Halloween Kills shows us what transpired after the credits rolled. Michael Myers didn't die, Laurie Strode (Jamie Lee Curtis) is on her way to the hospital... it all sounds a bit like Halloween 2 (1981). But relax, it's drastically different. It's all Laurie Strode can do to keep out of Myers' way, as she's recovering from her wounds from earlier in the evening. Meanwhile, Michael has a large knife, and…. y'know... stab, stabby stab.
One of the things that elevated this film so high for me was the reappearance in flashbacks of Dr Sam Loomis. This role was originally played by the late Donald Pleasance, in his own quirky style. But both his style and appearance have been perfectly replicated by ingenious make up and a wholly convincing mimicking performance. It's not a CGI overlay.
Perhaps the most horrifying thing about the film is a crowd scene, where the outraged citizens of Haddonfield turn into a mob and attack and slaughter the wrong man, thinking he's the killer. I saw it as a chilling condemnation of where we are today as a society.
As far as the story goes, personally, I can't wait to see the final instalment this coming Halloween. I'll be sad to see it end, but if they keep this momentum going, it'll be a great movie to see the franchise off with.



AND NOW THE FINAL THREE…



3 – Malignant
Trust me – I'm as surprised as anybody that the list this year is so horror heavy, especially the top five. I'm usually the one moaning either that there's little to no originality in horror these days, or that the makers of the Conjuring films have hopelessly diluted the genre with their dumbass jump scares.
Then, I get proven wrong. James Wan, director of the Conjuring brought us Malignant. From the trailer, I was convinced it was just another haunted house movie. But it isn't. I've never seen anything like it before. This is completely original, touching on themes of domestic abuse, medical malpractice and mental illness. And it gives us a new horror character in "Gabriel" that we've never seen the likes of before. It's un-nerving and absorbing. Throw me a film like this, Freaky or Halloween Kills every so often and I'm convinced that horror films – REAL horror films are alive and well.

2 – Ghostbusters: Afterlife
I'll freely admit that I've never seen the 2016 Ghostbusters reboot/remake/whatever it was. I saw the trailer – and shat showed me everything I feared would happen was on proud display. Crude, crass, talentless show off Melissa McCarthy mugging shamelessly to the camera. Nope. Not for me.
I was convinced that Ghostbusters was done. Particularly with Harold Ramis having passed on. Then a cinematic miracle happened, and the surviving original cast members agreed to reunite for the first time since 1989's Ghostbusters 2. After all this time, would the magic still be there, with one lynchpin missing?
In short – yes, it worked brilliantly. This is a passing of the torch that celebrates the past while simultaneously looking forward to the future. The heart of the film is Egon Spengler's granddaughter. Egon (Harold Ramis) has passed away on a farm. In the barn, under a tarpaulin cover is the rusted, neglected ECTO-1. Under the barn is Egon's secret base of operations. An ancient evil and past foe is stirring, and Egon was trying to prepare.
But the young granddaughter has to persuade her brother and a couple of friends to help her face what's coming, armed with the Ghostbusters' gadgets. But help is also on the way -both earthly and ethereal.
This was PROPER Ghostbusters. Or maybe Ghostbusters mixed with a little bit of Stranger Things and giant spoonful of The Goonies. But it worked, and I was convinced that THIS, being a heart-warming tribute to Harold Ramis and a thoroughly satisfying, long awaited crowd pleaser, would be my top film of the year.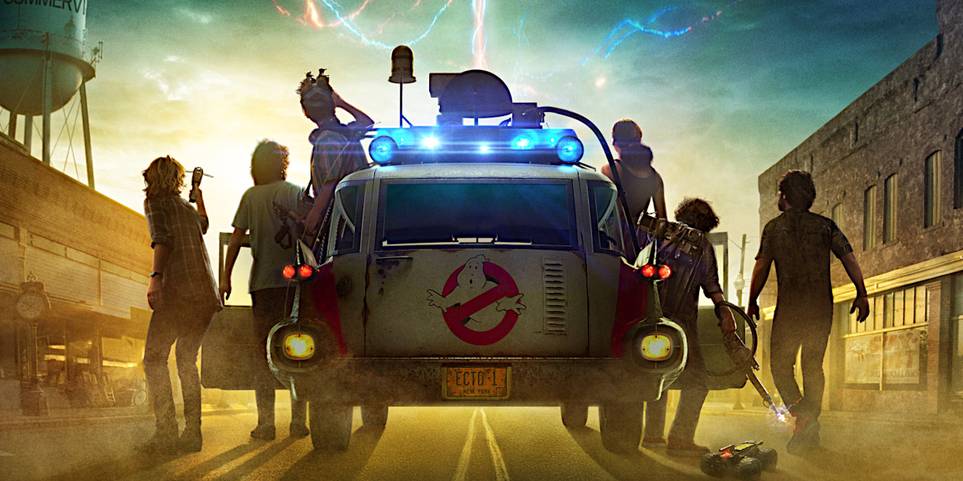 UNTIL….


1 – Spider-Man: No Way Home
Marvel Movies had, in my opinion, lost some of their momentum. Not ALL of it. But some. And this was understandable. How do you follow Infinity War, Endgame and Far from Home? Especially with a world-wide pandemic in full operation? The frequently delayed Black Widow was good, but it should've been released at the point it was set -before Infinity War. We were watching Black Widow's last but one adventure, a story of a character who has since died. In a way, seeing this gave her death more resonance, but still.
Shang Chi debuted in a strong film that brought to life a character I hadn't read since the mid-seventies, and drew some mythology into the tale. It secured its place in the Marvel Movie Universe by explaining Ben Kingsley's Trevor Slattery in Iron Man 3, but didn't seem to put many rear ends on cinema seats.
Eternals – um…yes. That one left me a bit cold. I wasn't drawn in, and I need to see it again. It kind of missed its mark for me. To put it bluntly, as 'm writing this right now on Jan 3, 2022 – if they choose not to make a sequel, I'm okay with that.
Spider-Man: No Way Home blew me out of my seat. THIS was the best of Marvel at its very best. This is the perfect superhero film. This is pure comic book storytelling brought to life and it saddens me that neither Stan Lee nor Steve Ditko is around to see this depiction of their beloved character.
As Spider-Man's real identity became known at the end of Spider-Man: Far from Home, his entire life changes. Peter Parker (Tom Holland) is hounded by the press and denied entrance to college. Seeking help from Doctor Strange (Benedict Cumberbatch). He wants the sorcerer to cast a spell that will make everyone forget his identity. He wants everything to be as it was. But as the saying goes, you can't go home again.
The spell opens up the multiverse – different realities. And some characters from previous Spider-Man films are pulled through – including the Lizard, Doctor Octopus, Green Goblin and a couple of familiar Spider-Men.
This one had it all, spectacle, surprises, shocks, action, redemption, loss, tragedy, comedy and some heartbreak. This is the very definition of an emotional rollercoaster of a film and not only has it taken the number one spot on my 2021 list – it has nudged ahead of Infinity War as my personal favourite Marvel film.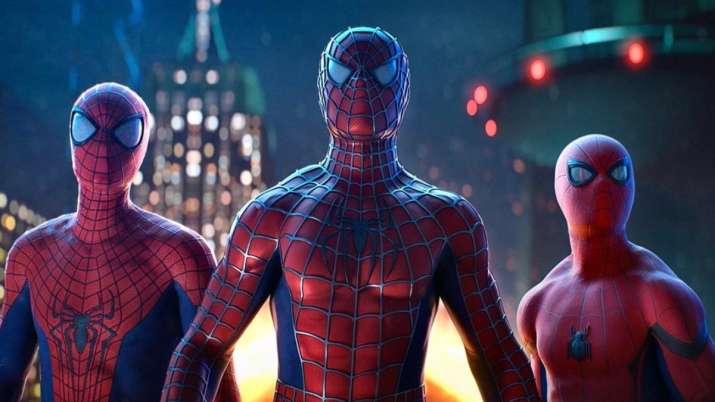 PHEW – BUT…. THERE'S A SPECIAL MENTION!



I didn't know where to place this one. It's not exactly streaming; it didn't get a cinema release.



Zack Snyder's Justice League
This is in a class of its own. Warmers had denied its very existence, but eventually relented and we got to see it. Zack Snyder's cut of Justice League finally gives these legendary DC characters the sprawling epic they richly deserve. I accepted the previous cut, which had been finished in Snyder's absence by Joss Whedon had been a difficult project, but felt that Batman, Superman, Wonder Woman, Flash, Aquaman and Cyborg deserved better.
Comparing the theatrical cut of Justice League with say, Avengers Assemble was a hopeless exercise. It just didn't have the drive or the scope. Now with Whedon's contribution excised and Snyder's fully intact, this is as epic as a superhero film gets. It's a four-hour film that really doesn't waste its time. Not one single moment. It fully sets up Aquaman (which it precedes) and gives us a better introduction to Cyborg and The Flash. Plus, it introduces Darkseid to the DC film universe.
The sting, though – I really want to see MORE of Jared Leto's Joker character, and I'm hoping that Zack Snyder will return to DC. That sting raised some questions I need answered.

AND NOW…. THE BAD AND FUGLY! WELCOME TO THE HALL OF SHAME.



Here are the three films I disliked the most in 2021, in order of "yuk, never again".
3 – Space Jam – The New Legacy
I love the Warner Brothers Looney Tunes characters. I've never denied it. Those classic cartoon shorts have seen me through some dark times. I really enjoyed Space Jam back in the day, not quite as much as Joe Dante's Looney Tunes: Back in Action.
But this….?
Those anarchic characters really don't work "woke". And that became apparent very, VERY early on in the film and it just got worse as the film carried on….and on…and on…and on.
It was a bad idea from the outset and basically comprises of very little pedestrian and predictable backstory and an interminably long basketball game, watched by just about every other Warner's character. So, imagine a two-hour product placement advert. It's truly THAT bad.


2 – Dune
To some, this will be heresy.
I found this one to be long, dull, drab and tedious. The whole film fell flat, and I felt no connection with the characters. I felt that to get the most out of the movie, I should've read the book. But a lot of cinema audiences, myself included in this instance, watched the movie so I didn't HAVE to read the book. I couldn't shake the feeling that there was a lot of assumed knowledge here – that I simply didn't have.
Worse – the colour palette of the film seemed faded, washed out and literally boring to look at. There was nothing here that I could engage with, not narratively, nor visually – even Hans Zimmer's score seemed as drab as everything else. Yes, I know this leads in to a sequel, but the way it ended was abrupt without a resolution to anything at all. It just…finished. And I heaved a sigh of relief because I knew I was done with Dune.


1 - Thunder Force
I admit I should've known better than to even consider watching this on Netflix.
I was looking for a film to review on The Midweek Drive Morning Edition during lockdown. This is a radio show/podcast that I appeared on weekly, along with host Alex Lewczuk and film critic Richard Fitzwilliams. Both of them are seasoned professionals and I had to raise my game to try and keep up with them. Click here for Southside Broadcasting's podcasts.

So, one week, I was desperate for a film to review and chose this.
I was so ashamed.
It's a Melissa McCarthy movie, showcasing her talents as the world's funniest woman – in her own mind. In reality, she depends on playing the same unpleasant, crude, gurning character over and over. Except this time she's an inept superhero, along with Octavia Spencer. And I'll never understand why someone of the talent and range of Octavia Spencer would lower herself to this level of indignity. It's crude, crass and wholly unneccesary. Pretty much what I expect when McCarthy doesn't have a rein on her.
Never again.



Copyright © 2010 - 2022 Robin Pierce. All Rights reserved.