"I'm Sidney Prescott, of course I have a gun" – Sidney Prescott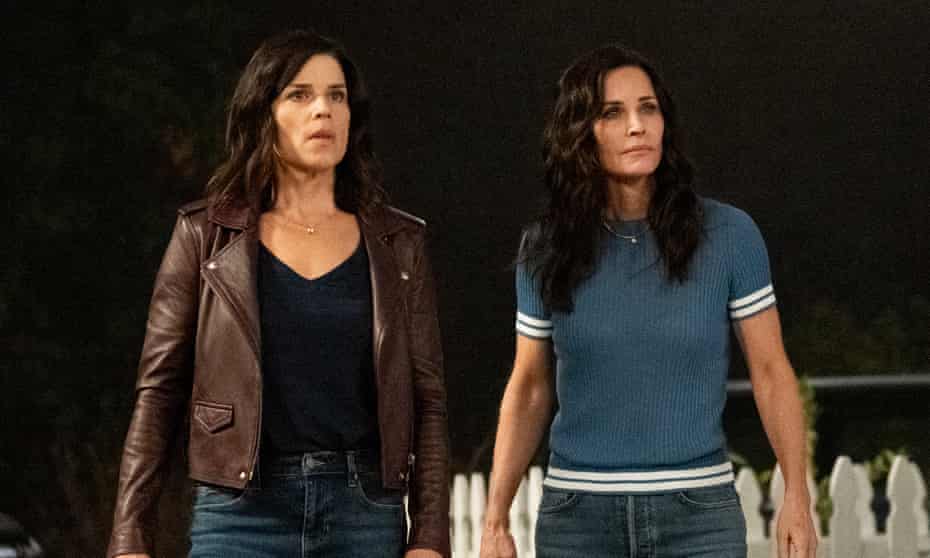 My first cinema outing of 2022 was to see Scream, or Scream 5 – take your choice of title. And I'll say upfront that if the rest of my multiplex forays are as much fun and are as satisfying as this one, it'll be a truly great year. And I have to say, it's a pleasure to be able to be that optimistic about the year ahead – particularly when I'm talking about a film that I wasn't sure would even work.
There's a sense in horror movies, especially in the slasher sub-genre, that each ensuing sequel cheapens the ones before, in the relentless chase for profit amid diminishing returns and general audience fatigue with the material being rapidly diluted. But I don't think this has ever been the case with the Scream movies. They're unique among slasher films in that they're self-aware, and all to easily dismissed as "just" slasher films when they're much more.
Not only are the Scream movies pretty effective horror movies, they also celebrate the slasher sub-genre by highlighting its rules and tropes without tumbling into parody. The dwindling cast know what's happening – because they've watched the films that the Scream films reference. It's a formula that has worked very well for the Screams for 25 years.
Carrying on from that point, the Scream movies are an effective commentary on film trends in general. The first Scream took on the slasher genre, its tropes and cliches. The second was a statement on the plethora of sequels that seemed to be everywhere. The third was a long, hard look at the trend to make everything a trilogy. Ten years later, the fourth examined the reboot craze.
The problems, as I saw them, were simple. What was there left to cover? That and the sad passing of director Wes Craven who had helmed the previous four entries. The last thing I wanted to see was the Scream series descend into the pool of films it so cleverly and subversively criticised. And I didn't want to see the series' legacy derailed and diluted by a lesser director, sacrificed on the altar of the almighty dollar. The odd release date of the film also made it seem like a throwaway. Big tentpole films that have the full confidence of the studios tend not to be released in the cold pit of January, when cinema audiences are at their lowest. I'd have expected a summer or fall release. Let's face it, horror movies do well then.
As it turns out, I had hopelessly overthought the whole situation. In every way.
Let's address the general direction of the film first. I'll just say that as much as I've admired and enjoyed Craven's work over the years, this is the best Wes Craven movie not directed by Wes Craven. Directors Matt Bettinelli-Olpin and Tyler Gillett have crafted a worthy tribute to the late Wes Craven. They've successfully imbued the film with his touches and flourishes so, crucially, this film fully fits into the series flawlessly.
The recurring theme of commenting on a current cinematic trend is very evident and timely. And it's something that hadn't occurred to me as I was pondering where they'd go this time – if anywhere. It's the requel! That current hybrid of reboot and sequel. A film that brings back beloved characters, albeit older, (referred to here as legacy characters, which I'm immediately adopting) among newer characters who're designed to keep the franchise going. Examples are the sequel trilogy of Star Wars films, the last Jurassic Park film, Ghostbusters: Afterlife and of course, Halloween's current trilogy. Hell, let's even throw Spider-Man: No Way Home in there.
These films have a tendency to polarise their fanbase, who yearn for something new that's faithful to their obsessively beloved franchises, but not TOO new, but not repetitive either. It's a self-defeating infinite loop that ends up being toxic. (I have absolutely zero tolerance for toxic fandom, and have often thought that as a fan of science fiction, we should be above that weird toxic tribal behaviour because a recurring theme is SF is tolerance and understanding through exploration of the unknown. Simply put, "trying something different".)
A stunning statement on this disturbing and sad state of affairs is a line of dialogue from a character in the film claiming to have been radicalised by fan message boards on the internet. I've never heard toxic fandom better described.
As for releasing the film in a cinematic dead zone - This movie has packed audiences in and is in every sense a huge commercial success. (Shows what I know – right?)
The plot is both new AND familiar, as one would expect in a requel (I love that word)
We start with a scene that closely echoes the first movie's opening, set as in reality, 25 years after the events of the first film and ten years after Scream 4. It's hardly a spoiler to say that Ghostface is back in Hillsboro, carving up victims. The beauty of Ghostface as a killer, as opposed to a Freddy, Jason or Michael Myers is that Ghostface can be literally ANY character in the film. The Scream films are, on top of everything else, whodunit mysteries with a lot of bloodshed. Freddy, Jason and Myers are ALWAYS going to be themselves (Except for Friday the 13th V: A New Beginning) there really isn't a mystery there, their novelty I guess is the means by which the seemingly immortal killers keep coming back.
But there's always more to the story than random killings. And the rules of sequels, trilogies, reboots and requels tell us that it always goes back to the beginning – hence we're back in Hillsboro, and as it's a requel, there may be more at stake than long-time fans are comfortable with.
Despite a now retired Sheriff Dewey (David Arquette) warning them to stay away from Hillsboro, it's inevitable that Gail Weathers (Courtney Cox) and Sidney Prescott (Neve Campbell) will return to confront the latest Ghostface.
There's plenty for those of us who've followed the story from the beginning to enjoy, including a familiar song played on a car radio, the realisation that Hillsboro actually has an Elm Street, key sequences taking place in exactly the same houses that key sequences have happened before. Much of the film is a fond echo of past events, being recreated with a new twist. Old favourite character film nerd Randy Meeks is fondly remembered by his sister Martha (played again by Heather Matarazzo) who was introduced in Scream 4 and her kids. Also back from 4 is Sheriff Hicks (Marley Shelton), now promoted from her plucky deputy role and the voice of Roger Jackson as Ghostface.
I felt as much a sense of warm and enthusiastic nostalgia seeing some of the original cast members preparing to deal with Ghostface in this movie as I did watching the original cast show up in Ghostbusters: Afterlife, or Harrison Ford announce "Chewie, we're home".
Will there be another Scream? Frankly, I don't know –somehow, I doubt it. But as they say in this film…. the killer always comes back.


Rob Rating 9/10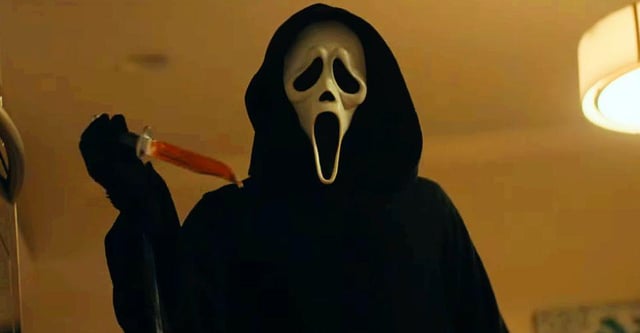 Copyright © 2010 - 2022 Robin Pierce. All Rights reserved.