"I always knew he'd come back. In this town, Michael Myers is a myth. He's the Boogeyman. A ghost story to scare kids. But this Boogeyman is real. An evil like his never stops, it just grows older. Darker. More determined. Forty years ago, he came to my home to kill. He killed my friends, and now he's back to finish what he started, with me. The one person who's ready to stop him."- Laurie Strode


It's a sequel – but not as we know it.
Oddly enough – it's a sequel, but not as we know it, to a film I've hailed as my favourite horror movie of all time since I first saw it, and I have absolutely nothing to bitch about.
It's a game changer – it changes absolutely everything we know about the Halloween movies, and I'm fine with that. If anything, I'm happy, because it makes the path to choose after seeing the original Halloween a multiple-choice thing. I have options.
This year, I've been given a unique opportunity. As regular readers will know, in the build up to Halloween, I have a long-standing tradition of watching the original Halloween movie. This year, it was re-released theatrically for one night only to celebrate its 40th anniversary. This was the first time I've ever seen it at the cinema. It's a strong, well-made and un-nerving film that has stood the test of time.
Usually, at home, I'll then delve into my collection and watch Halloween 2 (1981) which continues the story from the second the original leaves off and deals with the aftermath. Laurie (Jamie Lee Curtis) is taken to Haddonfield hospital, and Michael Myers – The Shape – follows her there with Dr Loomis (Donald Pleasance) in hot pursuit for a final explosive showdown, after a lengthy plot contrivance where it's explained that Laurie is Myers' OTHER sister and he's triggered somehow to home in on her at Halloween like a heat seeking missile.
Halloween 3 – Season of the Witch was an entirely different story, which I like very much. So, it doesn't count in the continuity. But The next three films get progressively direr as they plod along. Halloween 4 has a nice opening sequence, then it's downhill. Myers has a new potential victim, having survived a fiery death, as has Loomis (or what's left of him) and Laurie died in a car accident in-between films. Halloween 6 is truly dire – some nonsense with runes and is best not spoken of, let alone watched. I made that mistake.
So, Halloween H20 came along and was the twentieth anniversary film, where Curtis returned to her iconic role wiping out the events of films 4 -6. Now, she's still alive and running a boarding school with a new identity under the witness relocation program. And once again, he big brother comes trick or treating, finally perishing at Laurie's hands. Or did he? The next film, Halloween: Resurrection had a title that gave the game away and ended up with the final death of Laurie.
So – my definitive method of watching these movies goes like this:
Halloween (1978)
Halloween 2
Halloween H20
That makes for a satisfying and cohesive story arc. Note – Rob Zombie's films are a completely different continuity, so they don't count either. (Sorry, Rob)
But now, there's…. this.
Watching the trailer, I couldn't understand how Laurie Strode is still alive, when we saw her killed in Resurrection. But that trailer, and THAT music intrigued me so much that the film became irresistible. How would they explain the massive plot hole? Did they think we'd forget?
First off, my one criticism is calling the film simply Halloween is a bit confusing when the original Halloween is out there doing the rounds. Even the recent Predator movie was called THE Predator to distinguish it from the original.
As I've mentioned, this is a total game changer. It sweeps away years of continuity and makes the storyline where Laurie is Myers' long-lost kid sister unnecessary.
The film takes a fresh look at the whole concept in a way I haven't seen since Godzilla 1985 rewrote everything that happened since the original, wiping away thirty odd years of continuity and mis-steps, becoming the "official, serious" sequel.
So, the events of Halloween '78 happened – everything right up to the end of that film which Myers falling off the balcony and then disappearing – that's still there. Everything beyond that – gone. Forgotten. Never happened. Laurie is no longer Myers' sister, no Haddonfield hospital, no more Mr Sandman, no death by car crash, no runes, no more boarding school, and Myers didn't kill her. All gone.
On that same night, so we're told, Myers was apprehended and committed to an asylum, where he's been for the past forty years. Not talking, not responding – just quietly biding his time, until two snoopy reporters try and stimulate a response for their podcast by showing him his original rubber mask under the supervision of Dr Sartain (Haluk Bilginer) who took over the case after the passing of Dr Loomis. Initially, the mask has more of an effect on the surrounding deranged than Myers who barely registers. (I've noticed that in asylum scenes in horror movies, there's always ONE lunatic laughing uncontrollably in a corner and that tradition is proudly upheld here.) Stupidly, these idiots shout and scream at Myers, who's chained, waving his mask around just a day or so from…. halloween.
Meanwhile, Laurie Strode has virtually become Sarah Connor. She's lean, mean, heavily armed, skilled with guns and unarmed combat and lives in what seems to be a well secured fortress, out in a rural area. Electric gates, surveillance cameras, weaponry and a hidden underground panic room. All the comforts of home. But the night of 40 years ago have cost her plenty. Her daughter (Judy Greer) is practically estranged, having been taken into care as a child due to her mother's paranoia. Laurie is the family pariah, except in the eyes of granddaughter (Andi Matichak), who keeps in touch.
As I said, in this continuity, there's no relation between Myers and Laurie – and this increases Myers' threat. He's a random killer. He wasn't after her because of any connection, he's now entirely human, can be hurt – the one glimpse we have of his face shows he's blind in one eye from the coat hanger gouging he received from Laurie 40 years ago. It's scarier to think that he would've gone after anybody he saw that night. The killing of his sister in 1963 was purely bad luck on her part. She was in the wrong place at the wrong time. He returns to Haddonfield because that's where he's from. He'll kill anybody who crosses his path because he's a remorseless serial killer. It also explains the plot hole of why he killed the others before moving on to Laurie in the original film.
Forty years later, Laurie is prepared for Myers' inevitable homecoming, but he's not after her because of any supernatural sibling bond – she's just unfinished business, and she does whatever she can to draw his attention to her. In a way, there's more of a role reversal because she's more of an aggressor this time around.
There are plenty of nods to the original film here to keep us die-hard fans happy. Myers gets a satisfying revenge on the reporters, retrieving his mask in the meantime, but gets his usual blue overalls by slaughtering a mechanic, as in the original. There's an amazing echo of the scene where Laurie sees Myers for the first time from her classroom, this time with the granddaughter sitting in the same seat, looking out during the same damn lesson, and seeing her grandmother on the street outside. Incidentally, the teacher is a cameo role for P.J. Soles who played Lynda in the 1978 film. The doll's house in Laurie's home is a replica of the original Myers house… the list goes on.
An absolutely perfect "40 years later" continuation, and no better way to celebrate the franchise's 40th birthday by giving it a fresh lease of life.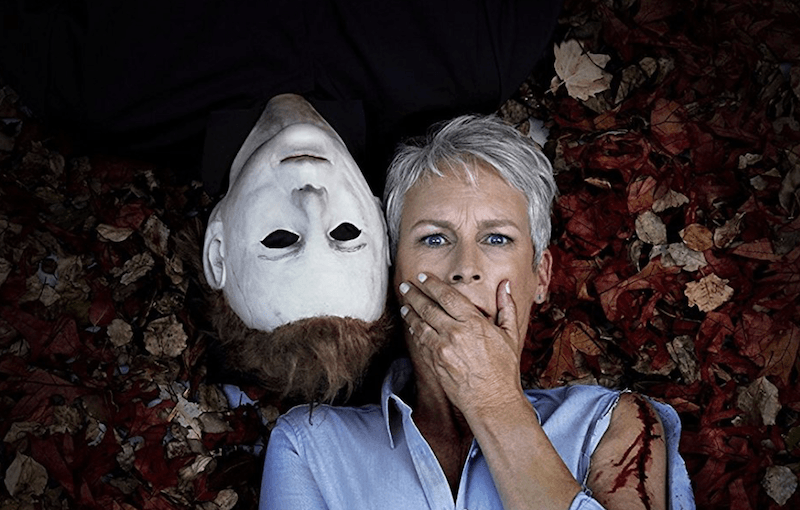 Copyright © 2010 - 2018 Robin Pierce. All Rights reserved.