"The world needs you." - Batman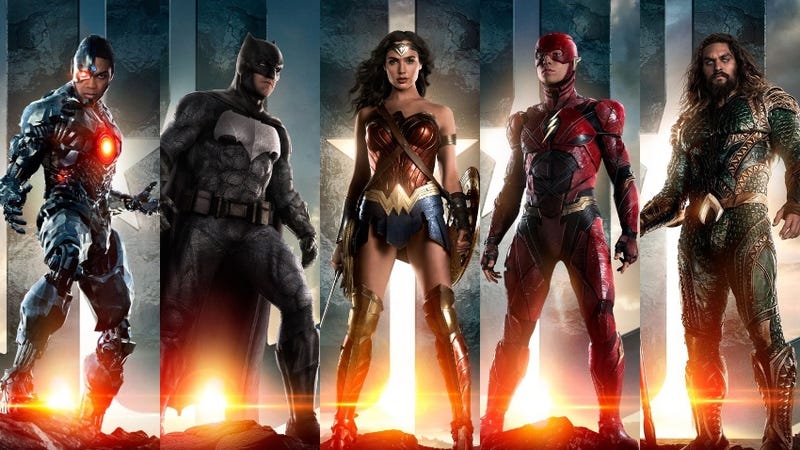 Let me put my cards on the table, face up.
One of the very few things I dislike about fandom is the idiotic tribalism. According to a few, you can only like one thing, and you have to vehemently hate everything else. To me, that's like saying you can only love steak, you have to hate cheesecake. I call bullshit on that. I'll have both, albeit on separate plates thank you.
I truly love the Marvel Movie Universe. They haven't put a step wrong since Iron Man repulsor rayed his way on to our screens nine years ago. I've loved all the films they've put together in a magnificent story arc of standalone films, which in itself is an unbelievable achievement. Captain America: Civil War was actually my film of the year last year. Even over Batman vs Superman: Dawn of Justice.
I make this point because deep down, I love DC just a little bit more. I started out reading DC comics in 1966. Batman was and remains my ultimate hero. My idol. He was the first costumed crime fighter I ever heard of, just before Adam West donned the cape and cowl and really set me on my lifelong path of nerdy ubergeekiness. Then I stumbled across Superman. Eventually, and to my amazement, I realised there was ANOTHER company who published comics over there in America, and they were called Marvel. But it was DC who lured me in.
Enjoying Batman and Superman, I discovered they also fought as part of a larger group that included other superpowered beings. Wonder Woman, Flash, Green Lantern, Green Arrow, The Atom, Hawkman….
If the Avengers were a dysfunctional family, continually bickering, falling out and changing their line-up, then the Justice League of America were comic book royalty. They were the A-Team. Noble, proud, saving the day politely and respectfully. The ongoing geek argument of which team was the best never got past the point of Justice League because they have Batman and Superman. After that, the point was won.
As Marvel movies steamrollered their way to immense success with their introductory movies building the characters up to forming the Avengers, it seemed that DC were seriously fumbling an opportunity and losing ground that simply could not be made up.
Man of Steel seemed to be a flawed start in tone and its depiction of Superman. When Dawn of Justice followed, it actually validated Superman's attitude. The way Batman was brought into the mix as a result of Superman's actions made complete narrative sense and also nudged toward the path of a DC movie universe especially as having both characters together would bring Wonder Woman out of her seclusion of over 100 years. We were on our way to a cohesive universe that along the way would bring us Suicide Squad and a truly great Wonder Woman solo movie.
Batman knew there was a menace on the way in Dawn of Justice. He enlisted Wonder Woman to help him build a team to be equal to the challenge, now that Superman had died at the hands of Doomsday. The Justice League were coming to the screen.
Since the announcement that the League were on their way, I have both looked forward to seeing them on screen for the first time. But equally, I have dreaded it. What if they get it all wrong? What if it turned out like Josh Trank's Fantastic Four movie?
My fears were groundless.
I needn't have worried.
This IS the Justice League in full on epic action, against a foe who tests them to the limits of their incredible abilities. Not, as in the comic book debut, a giant alien starfish, but a character who up until now has been a relatively minor one and one whom I had to do a little digging, as I was never a big fan of Jack Kirby's New Gods back in the seventies.
Steppenwolf is one of these New Gods (Trivia, the New Gods were actually supposed to be tales set in Asgard as part of Thor's mythology, but it all went south when Kirby jumped ship from Marvel to DC. His concept was rethought and thus DC launched the New Gods title. Imagine high-tech Asgardian gods with a hippie sensibility. The dark side of the mythology, the hell, if you will, was Apokalips under the merciless rule of Darkseid. (For a quick and easy reference, by rule of thumb, Darkseid is the equivalent of Marvel's Thanos – basically, the ultimate, most powerful bad guy.)
Darkseid is Steppenwolf's nephew, and as we are told in the movie, went to war against the Amazons, Atlanteans, Olympians, Humans and even the Green Lantern Corps thousands of years ago and was defeated and consequently banished to exile from Apokalips. Seeking to be reaccepted, he plans to return to Earth and retrieve three Mother Boxes which are kept here. The boxes are advanced New Gods technology, and have unimaginable power to teleport, manipulate energy, heal or cause Armageddon…you get the gist.
As we saw in the last scenes of the extended cut of Dawn of Justice, Steppenwolf has been in contact with Lex Luthor in preparation for this invasion. He has smelt fear among men since Superman's death and the time is ripe. One mother box is on the Island of Themiscyra, home of the Amazons (and was referenced in Wonder Woman) another is in Atlantis and the third is in the hands of the humans in S.T.A.R. Labs. (Given a choice of handing over responsibility of the box to either the Olympians or the Green Lantern Corps, the humans would've been my absolute last choice.)
Bruce Wayne/Batman knows something is coming and has already started to form a response team to the oncoming menace with the assistance of his newfound ally, Diana Prince/Wonder Woman.
There are other superpowered beings around, and they need to be recruited. Iceland has a small village, where a mysterious benefactor makes sure they have enough fish to eat when they're cut off during the winter. A man who lives in the sea.
Central City has a speedster who can move faster than the eye can catch up.
And there is a Cyborg, a young man reassembled as a half robot after a life threatening accident which cost him most of his body. His father, who works at S.T.A.R. Labs used Kryptonian technology to keep his son alive and the technology is constantly evolving.
So, the film centres around two characters we're familiar with, and three who make their debut (apart from cameos in the earlier films).
As ever with superhero films, it all comes down to whether we the audience buy into the characters and the performances. We've already seen Ben Affleck as Bruce Wayne/Batman, and in my opinion, he might well be the best movie Batman of them all. He plays Bruce Wayne as a world weary millionaire who has seen and suffered too much. Not as dark as Christian Bale's Batman, but maybe a logical extension of Michael Keaton's.
Gal Gadot has surprised me. Really surprised me. When her casting was announced, I couldn't see her in the role and I was pretty vocal about it. Now, I can't see anyone else playing the part. The Wonder Woman movie of the past summer saw to that.
Ezra Miller as Barry Allen/The Flash is a scene stealer. Don't mistake him for the TV Flash though, this is a different take on the same character. He's much younger here, a loner with a genius level IQ who's just starting out as a superhero, with no real direction in his life.
Jason Momoa as Arthur Curry/Aquaman actually makes possibly the most boring character in the DC universe likeable and funny. Momoa is a big bear of a man who usually gets by with snarling and grunting his sparse dialogue (Game of Thrones, anyone?) but here is given an opportunity to break away from that and he nails it.
Ray Fisher plays Cyborg/Victor Stone, as initially a bitter character who feels betrayed that his father turned him in what he sees as a monster. Gradually as his suit evolves giving him for example the power of flight one day when he couldn't the day before, he sees his own potential and embraces it.
Overall, so far, the DC films have been darker in tone than the Marvel movies, and can be criticised for taking themselves too seriously. The cinematography has been broody and dour. The inclusion of Flash and Aquaman in the universe will certainly lighten things up, as shown by the lighter tone and the return to brighter, warmer colours we see on the screen and the more upbeat dialogue.
The music score here is just amazing. Initially, I was disappointed that Hans Zimmer wasn't doing the honours, but Danny Elfman is as solid and reliable a replacement as could be wished for. He skilfully uses samples of his own Batman theme from the Tim Burton films of the eighties here, as well as Zimmer's Wonder Woman and a noteable one by John Williams….which brings me to the end of this review as we're about to enter…….The Spoiler Zone.
As ever, if you haven't seen the film, you are warned that if you scroll down and keep on reading, there ARE spoilers. So, go see the film, then come back.
10
9
8
7
6
5
4
3
2
1
WELCOME TO THE SPOILER ZONE!
I thought that the introduction of Superman being interviewed by children as the opening shot was an elegant way of dealing with the whole is he or isn't he in the film question. Though, if you bought a Justice League popcorn bucket in the foyer of Cineworld on your way in, you'd already know the answer as he's prominently on the bucket.
An important plot point of the film is that however powerful they are, the League realises that they're not powerful enough to defeat Steppenwolf without the Last Son of Krypton and they need to revive him, which in itself is a huge risk as he might not come back quite as he was.
When he does actually return, he is mightily pissed off with everything and everybody – particularly Batman and it's a genuinely chilling moment when one of the best remembered lines from Dawn of Justice is repeated….."do you bleed"?
But the main point I wanted to make is Henry Cavill's performance. From that shaky start I mentioned in Man of Steel, Superman has evolved. His costume is now the bright, primary coloured beacon of hope that it should be. That cape is no longer burgundy, it's unmistakably RED.
Cavill now plays the character closer to the earnest, maybe a little bit naïve, big blue boy scout that Christopher Reeve played – and this plays well against the brooding approach of Affleck as Batman. I actually had chills as Cavill's Superman launched into action to a sample of John Williams's magnificent score from the 1979 film.
DC are far from the underdogs in the superhero film world. Marvel's lead is certainly being whittled down, and if the second sting right at the very end of the credits tells us anything, it's that we comic book fans have a lot more to look forward to.
Copyright © 2010 - 2017 Robin Pierce. All Rights reserved.