"Okay, I'd appreciate a prophecy with more relatable stakes." - Hellboy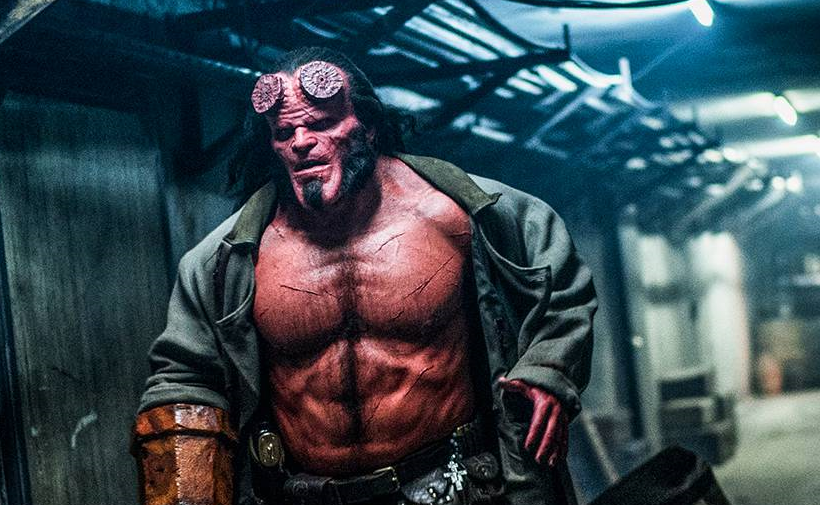 It just goes to show that I go and watch movies with an open mind.
I hadn't expected to like this film, let alone enjoy it. I went because I was curious. I love Guillermo del Toro's two Hellboy films, and was bitterly disappointed that the loose ends left trailing at the end of The Golden Army didn't pan out to a third instalment. Ron Pearlman WAS Hellboy, damnit. He had the perfect facial structure. But now, all that was gone. Hopes dashed.
Moreover, I've been reading some Hellboy for the first time ever over the past year, because I managed to get hold of the collected volumes of creator & artist Mike Mignola's entire several year run. This was because I was writing a Starburst feature to tie in with last year's The Shape of Water and realised that when I was writing about Hellboy's sidekick, the aquatic Abe Sapien, I didn't have much of a clue – then I got hooked (pun intended).
So, when the news of a Hellboy reboot hit the web, without any of the usual cast and none of the usual team we'd seen previously, I was just a hairbreadth away from transferring from ambivalent to borderline hostile. I saw the trailer, and just wasn't sold on the idea – but hell, let's check it out, right? I can always wash the taste away with another viewing of Shazam if it's as bad as I feared.
So, there I sat, with Steve, on opening day. Ready for the worst. Braced for a long-ass two hours of increasing grumpiness on my part.
Then, something happened that I never saw coming. During the opening narration events are set in motion during the Dark Ages and as the narrator intones in all seriousness; "They were called the Dark Ages with good fucking reason". This, coupled with the grim event we see on the screen not only hit my sense of humour dead centre – but it drew me in to the film. Literally, from the opening seconds – the film had me in its clutches.
It's not as artfully mounted a production as a del Toro, movie – that's for sure. Every film of his is equal parts narration and visual tone poem. From his early films like Cronos and The Devil's Backbone on to even Pacific Rim to a degree. They're moving works of art that elicit a sense of wonder. Look at Crimson Peak, The Shape of Water or Pan's Labyrinth. Maybe not Mimic, though. It's hard to make mutant cockroaches arty, I guess. But even the Hellboy films have a beat every now and again so you can fully appreciate the astounding visuals of the fantasy world on screen.
This Hellboy hits the ground running from the opening shot, it's a blunt instrument of a film that doesn't take prisoners, abandoning the finesse and deliberate pacing of the earlier films in favour of a big, sprawling, loud epic that moves at a rapid pace, scooping up the audience and depositing them right in the middle of a blood and gore strewn two hour assault on the senses.
BUT – having said that, is it a good representation of Hellboy on screen? Yes, it actually is. Having done the due diligence of reading a fair amount of the source material, I'd say it's a great Hellboy movie. That's not to say it's the best Hellboy movie we'll ever see, but it left me more than happy that I'd seen the kind of visuals that I'd seen drawn by Mike Mignola. It's true that the previous team doesn't appear (with one important exception – wait for the sting) but this allows director Neil Marshall to explore and introduce some of the other characters in Mignola's comics. (I was particularly happy to finally see Lobster Johnson played by Thomas Hayden Church in action onscreen.)
Yes – it's a reboot, and we're back to that bleak little island off the coast of Scotland late in the Second World War, where an allied strike force is there to foil the nefarious plans of a Nazi squad, on a mission to raise a demon with the assistance of Rasputin, and up pops a baby Hellboy. But that's where what we've seen before pretty much begins and ends.
This is a brave new world for Hellboy films. One where giants still roam the Earth, and demons regularly come through to our reality or are already here and have been, unnoticed for some time.
The main plot is centred around the demon raising Blood Queen, Vivian Nimue (the amazing Milla Jovovich in, for my money – her finest performance) who suffered the unspeakable fate of having her immortal body cut into several parts and buried, strewn all over the country back in the aforementioned Dark Ages. All at the hands of an Excalibur wielding King Arthur. Nimue's followers, represented by a pig faced demon with a scouse accent, are trying to bring the parts of Nimue back together so she can resurrect and wreak a terrible revenge.
But the Bureau for Paranormal Research and Defence are on the case, wit their crack team of Hellboy, Alice Monaghan (Sasha Lane) a witch who can channel the deceased and Ben Daimio (Daniel Dae-Kim) who can transform himself into a Leopard when maddened.
The film takes in some of the Arthurian legend, and there's a disturbing glimpse of London, post apocalyptically in flames as Hellboy rides the skies on a dragon, which was one of the main images of the rather misleading trailer.
The big question is, I guess, how does David Harbour fare, filling the mighty boots of Ron Pearlman? Actually, very well. I'm accepting this as a new start for the Hellboy franchise, so it makes sense that the character is younger and even cockier than Ron Pearlman's portrayal. I hadn't expected to be typing that sentence, but there we are. It happened.
Sadly, audiences haven't been particularly accepting of this reboot and at the time of writing, it appears to be tanking badly, which dashes hopes for a sequel, broadly hinted at in both stings so we may yet be left in exactly the same position with some threads left hanging. But this has made it on to my list of titles to be considered for inclusion on my best of 2019 end of year list.


Copyright © 2010 - 2019 Robin Pierce. All Rights reserved.