"I think Nick Fury just hijacked our summer vacation" – Peter Parker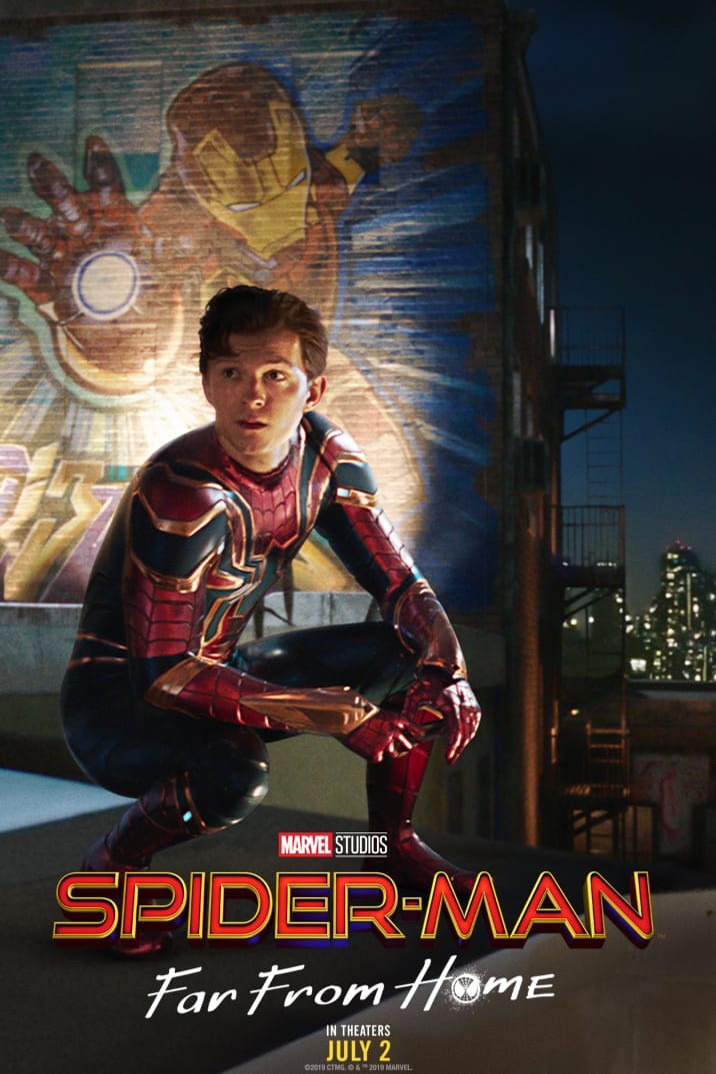 And so, the burning question is finally answered – how in the name of Stan Lee can Marvel Pictures follow up the frankly magnificent Avengers: Endgame? Would they soar to yet another pinnacle of achievement, of would they fizzle and plummet, like a spent firework?
It seemed to me an odd decision to have a Spider-Man film close off the third phase of their Infinity Saga when, after all, the story had been told and concluded a couple of months ago in the box office record busting Endgame. What was there left to tell?
Far from Home has been a subject of fan conjecture and debate since the title was announced last year. "Far From Home"? What did it mean? Was the wall crawler left on an alien planet after the (then) upcoming final battle. Besides that – wasn't he dead? Was it a prequel? Was he, in fact on his was home from wherever he had been as the Infinity War began?
So many questions.
And so many satisfying answers.
In a way, like Toy Story 4, this film serves as an epilogue. It's the exclamation point at the end of the sentence for emphasis. It also propels the whole notion of the Marvel Movie Universe carrying on beyond Thanos. It also introduces audiences to a new classic Spider-Man villain in Mysterio and, and…. But I'm getting ahead of myself.
The last time we saw Spider-Man in his own film, that is not as part of a movie that featured the Avengers and everybody else in the Marvel Universe, we left him in a precarious position as May (Marisa Tomei) walks into Peter Parker's room just as he's in costume, exclaiming "what the…" Logically, the follow-up should have started with that sentenced being finished, and hearing Parker (Tom Holland) trying to stumble his way through an explanation would've been great. But sadly, we never get to hear good old Aunt May utter a four letter expletive. (To be truthful, classic Lee/Ditko Aunt May from the comic books always seemed to be about 124 years old and on the cusp of death and would never cuss, but for the younger, more vibrant Marisa Tomei version, it would've been not only appropriate , but comedy gold. I did however enjoy her referring to his spider-sense as his "Peter tingle")
So – as everybody who has seen the trailer knows, the film takes place after Endgame, after the snap and the Iron Man generated secondary/reversing snap that brought everybody back, but (somehow) eliminated Thanos and his armies. (I've spent far too much time over the past couple of months trying to figure all this out, how and why the second snap was so selective and what ramifications Captain America going back and altering the timeline somewhat might have had – I'm just accepting it because the films were so damn breathtaking and entertaining, okay?) Those who weren't involved in that war call the occurrence "the blip" – and the returnees have not aged during the five years they've been missing.
So, some time after his run-in with The Vulture and his involvement in the Infinity Glove affair, Spider-Man is trying to come to terms with the loss of his friend/father figure/mentor Tony Stark (Robert Downey Jr). His greatest secret is known to May and he's actually helping her out by appearing in costume at a charitable event, while also planning to enjoy a summer vacation with his High School class – a European tour/field trip. Things are definitely looking up for Peter. In fact, he's looking forward to kicking back and hanging out with MJ (Zendaya) so much, he doesn't even plan on taking his Spider-Man costume with him. What could possibly go wrong?
In the world of Spider-Man, if it can go wrong, it with DEFINITELY go wrong.
In a nutshell, Nick Fury (Samuel L. Jackson) is trying to make contact with him, needing his help, as Captain America, Iron Man and Black Widow are no longer around and Thor is off world, presumably, so is Captain Marvel, who is referred to as such for the first time here. This just leaves Spidey to tackle the latest space menace along with newcomer Mysterio who has suddenly appeared out of seemingly a parallel Earth, eager to help.
Mysterio was the cause of a fair bit of consternation to me. As far as I can recall, he was one of the first Spider-Man villains I ever saw. His costume was one of the weirdest and I'd have said, the least likely to make the transformation to a live-action film. A lot of costumes look great on the printed page, but if actually worn by a real person just wouldn't work – plain and simple. Take the Green Goblin, I wasn't overly impressed by the fact that Willem Dafoe looked more like a Power Rangers villain in Spider-Man (2002) but he'd have looked downright stupid wearing green tights, a purple leotard with a pixie hat and boots. Electro (Jamie Foxx) in The Amazing Spider-Man 2 (2014) was a crashing disappointment with his blue skin look instead of a lightning bolt mask in yellow with a green costume, but the classic suit wouldn't have really worked in reality. He'd have stabbed himself in the chest every time he looked down had he worn the comic book mask.
But Mysterio was even more outlandish with the head dome, the heavy cape, the odd bodysuit, the gloves and the perpetual mist he stood in. All classic Steve Ditko visuals, but could they work if worn by a real person?



The answer, stunningly, is yes. It's as comic book accurate a look as I've seen in a Spider-Man movie, apart from Doctor Octopus and Sandman (Spider-Man 2&3 respectively)





In fact, there's a strong element of that first comic book appearance in the film. The plot has been tweaked a bit, but essentially the way and means are very similar, as is the slightly altered motivation. (See what I did there? No spoilers, unless of course you've read the original source). Also present is a strong vibe of a later Mysterio plot line involving an amusement park. If you've read these, you'll recognise them and, like me, you'll be very, very happy. But you don't need to have watched them to have a great time, everything is explained and tied up – with a few strings left dangling. Oh yeah – there are two stings in the end credits that bode bad times for the webslinger and a strong future for the Marvel Universe.
Like the best Spider-Man stories, there's action, comedy, twists and surprises here. Jake Gyllenhall gives one of his strongest ever performances as Quentin Beck/Mysterio, with a highlight coming with a mere change of facial expression at around the film's halfway mark. Rarely have we seen a Marvel villain so well realised. Of course, full credit must also go to Tom Holland who is in my opinion the best all round the best actor we've seen in the dual role to date. Toby Maguire was an excellent nervous, dorky Peter Parker but missed something as Spider-Man. Andrew Garfield missed the mark as Parker, playing him as a grumpy emo – but was an excellent Spider-Man, the right amount of flippant cockiness was there. Tom Holland is excellent as both.
So many happy memories of reading the early Spider-Man comics were rekindled as a result of this movie that I'm in the mood to go back and re-read all those classic stories for the first time since the first Spider-Man movie seventeen years ago.
That's a lot of reading. Happy times ahead.



Copyright © 2010 - 2019 Robin Pierce. All Rights reserved.