"We've passed on all we know. A thousand generations live in you now. But this is your fight." - Luke Skywalker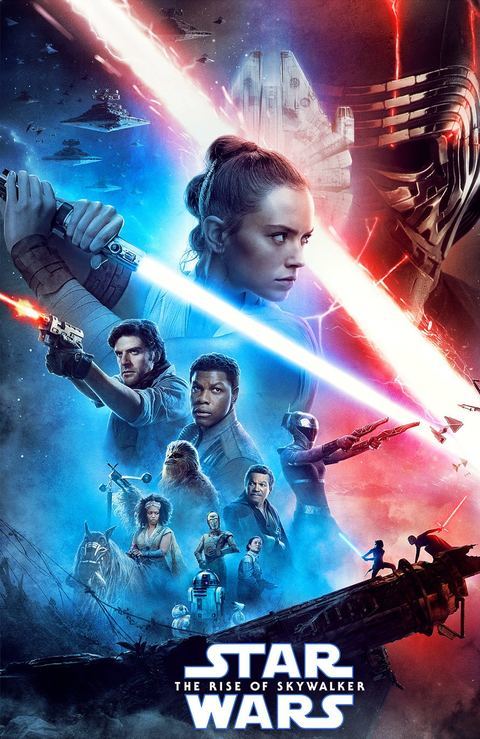 )
(I wasn't sure if I was going to review this for the site, as I've already reviewed it on Siren Radio's Morning Drive (you can listen here) and I've written the Starburst magazine review (which you can read here) both of which were spoiler free. We even did a Piercing the Veil podcast about it (available here.) But let's be realistic here, it's a Star Wars movie. Maybe the last for a few years, but certainly the last of the classic saga, so I guess a personal review where I'm not avoiding spoilers like a maniac is inevitable. So, here goes.)


There should be an opening crawl to this review – "Robin wasn't happy with The Last Jedi and hopes that this will fix everything he felt was wrong…"
It's true. I've been conflicted about The Last Jedi, as have many other people. I was particularly unhappy with what I considered to be a really stupid scene – Leia floating serenely through space and making her way to back to the spaceship like Superman. Turns out I'd missed the vitally important purpose of the scene and what was being set up. I was blissfully unaware that Carrie Fisher was being built up as the most powerful Jedi of them all. This was a foreshadowing of what was intended as a reveal in the final film. Sadly, the actress passed away and plans had to change. This was all told in an interview with the late actress's brother prior to Rise of Skywalker's release. And things become a little clearer.
What made things even clearer was that at the premiere midnight screening of Skywalker, we took the option of attending the triple bill, consisting of The Force Awakens and Last Jedi preceding the main event. The extent of Leia's powers is subtly built up from the Force Awakens – and when the films are seen one after the other, without a couple of years gap – it's completely obvious. The Force Awakens refers not to Rey, as I thought. But Leia. Leia is the Last Jedi, not Luke or Rey. It was there all along. So armed with this new insight, Last Jedi is indeed well and truly fixed. I no longer have an issue or a conflict.
Apart from resolving my issues, there was a lot more riding on this film that possibly any other I've seen – and that includes Avengers: Endgame. I have invested 42 years in Star Wars. I was there in 1977, when the first movie was released (without an episode title – just Star Wars). I was outraged reading the novelisation of The Empire Strikes Back on a train ride to a work training course and the book finished with Han Solo encased in carbonite. (How COULD they? Surely the book was wrong. Nope, I saw the film a couple of days later on the first week of release – desperately sad times). I saw Return of the Jedi on its first day of release in those far off spoiler free days, pre-internet in 1983. I taped the movies from television on my VHS recorder. I spent money I couldn't afford to upgrade to the home video releases in glorious pan & scan. I upgraded those tapes to widescreen tapes, despite not having a widescreen TV in the early nineties (did ANYONE?).
I queued for The Phantom Menace with an eight-year-old Steve for the first 9:00am screening on opening day. I bought the DVDs, I watched the second and third films in the prequel trilogy, I bought the DVDs, I bought the special edition DVDs, I upgraded to Bluray. I bought the books, the soundtracks, a Millennium Falcon model, more t-shirts than one person could ever need, the Ewok movies, The Clone Wars, Rebels, I have a lightsabre, making of books, guidebooks – you get the idea. Pretty much everything. When the films weren't being made, I was still watching and re-watching the films and listening to John Williams's soaring musical scores.
So yeah, I didn't want a flimsy ending. I didn't want an open ending. I didn't want a cryptic ending. I wanted an EPIC ending!!! I wanted the saga to close with an ending where I could walk out of the screening with an ear to ear grin, content that I'd seen something that was worth waiting 42 years for.
There was also the factor that I'd enjoyed The Force Awakens because it FELT like Star Wars, which the prequels hadn't, really. But then they shouldn't have, I guess. But the bewildering amount of CGI was ultimately a little clinical. But despite feeling like Star Wars, the main trio of Rey, Poe and Finn hadn't had the same impact on me as Luke, Han and Leia had. And a lot of what had been built in Force Awakens seemed to have been thrown away needlessly in Last Jedi, so my opinion about the main characters was in a kind of limbo – free floating and going neither one way or another. I felt Kylo Ren was just "new Darth Vader" to all intents and purposes. I wanted fleshed out characters I could care about.
One final thing – I wanted John Williams to complete the score, and to give us one last Star Wars score that would resonate forever, completing the nine.
Yeah, that's about everything I wanted from this last movie in the saga. The phrase "tall order" comes nowhere near, does it?
From the opening Lucasfilm logo and the bombastic blast of the legendary Star Wars theme to the last frame of footage, this is truly the Star Wars conclusion I was hoping for, on every level. I realise it has its detractors, and I know that it didn't satisfy everybody, but then nothing ever truly does. But this film worked for me.
It worked as an ensemble piece. Poe Dameron finally shook my opinion of him as being "new Han Solo" and to be honest, Kylo Ren finally assumed a villainous mantle equal to Vader himself. Both exceeded my expectations and became full characters instead of shadows. I'd say that Adam Driver as Kylo is the standout performer of the sequel trilogy cast – especially if you grab the opportunity to watch all three films in a row. From a petulant emo with anger management issues in his first outing to a spoilt brat child-king in the second to all out villain who needs redeeming in the third.
Okay, things are going to get spoilery from here on.
Rey's character again gets fully fleshed out. From being hinted at in Force Awakens as being the daughter of Luke (I was so sure…) to having her lineage and relevance trashed in Jedi, leading us to believe she was a throwaway character to being, surprisingly Palpatine's granddaughter. I literally NEVER saw that coming. That was as much of a gasp moment as Vader announcing he was Luke's father. What we thought were Jedi powers were actually her Sith powers developing, when you think about it.
Ian McDiarmid's return as Palpatine is truly the stuff of nightmares. His pallid skin, rotting fingers, opaque eyes and the menace, malice and downright evil dripping from every line – it's as if a cancer has developed the ability to speak. To think – he was manipulating everything in this trilogy all along. Of course, he didn't die – he was telling Anakin Skywalker about his Sith Master Darth Plagus in Revenge of the Sith, how he could cheat death. It was all there. The fact we see clones of Snoak suspended in fluid, ties him in to the whole trilogy. In fact, the whole saga now becomes as much about Palpatine as it is about the various generations of the Skywalker family. From The Phantom Menace on, it's all been about ultimate good Vs ultimate evil as portrayed by two families.
I was glad to see Anthony Daniels finally get a decent amount of screen time as C-3PO this time around. I understand his character had no real role in the last two films, other than be, along with R2D2 the only characters to appear in ALL the films, and a little of his prissy fussing goes a long way, but for old times' sake – it was good to see Threepio on form one last time, as uncomprehendingly annoying as ever.
Carrie Fisher as Princess Leia was astounding. As we know, the actress sadly passed away after completing her scenes for The Last Jedi. However, her character of Leia was still alive at the end of the film, and was set to return for the finale. But how?
There was unused footage from The Force Awakes, which was repurposed and used here. Now, this isn't a case of shoehorning footage in, by means of a flashback – the scenes featuring Leia have been digitally altered, as has the dialogue to make it seem Carrie Fisher was right there on the set. It's absolutely seamless and flawless. The only exception being a flashback sequence to Leia's Jedi training with Luke featuring computer generated younger versions of both actors.
Unsurprisingly, Luke Skywalker shows up as a Force ghost, but even that has a poignant moment, when he raises his crashed X-Wing from the sea to the same musical cue as the one heard when Yoda performed the same miracle in The Empire Strikes Back.
I think the moment that had me sitting with my mouth wide open in surprise was started with an off-camera "hey, kid…" as Harrison Ford makes one last appearance as Han Solo in a vision to start Kylo Ren on his road to redemption. It was only right and proper that both Han and Leia sacrifice themselves to save their son. If you recall, Han purposely stood in front of Kylo's lightsabre – almost suicidally. As if he knew his son had to become the ultimate evil before he could regain his nobility – and Leia, like Luke in the previous film used the last of her life energy to project an image across the expanse of space. In this case, an image of Han.
It's been said that the film just repeats bits of return of the Jedi – and I guess that might be true from a certain point of view. The pitched battle between Rey and Kylo is set in the ruins of the same throne room on that same Death Star 2, now crashed. But again, it makes sense. Kylo would have already been there to pick up his grandfather's mask, led unknowingly by Palpatine's voice in his head because Palpatine would be the only person who knew where it was – thus answering another gaping plot hole from Force Awakens. It all adds up.
Adding to the overwhelming feeling of closure are the cameos, during the final battle we get to see just about every type of ship we've ever seen in a Star Wars film – even the rebel blockade runner from the opening in 1977. Great to see Billy Dee Williams as Lando taking the Falcon into battle once again, and we hear the voices of, among others Mace Windu, Count Dooku, Yoda, Anakin, Darth Maul, Qui-Gon Jinn, Darth Vader, Obi-Wan Kenobi. Dennis Lawson returns to battle in a blink and you'll miss it appearance as Wedge Antilles, and another cameo has an eye-patched John Williams as a bartender.
Even the last shot of the film, Rey and BB-8 standing at the Skywalker moisture farm on Tattooine watching a binary sunset was just perfect. Back where it all started for us, 42 years ago.
A perfect ending. Haters may well hate. But damn, I loved every second of it. Unashamedly.



Copyright © 2010 - 2019 Robin Pierce. All Rights reserved.