"Surprise…" – Adrian Griffin

To be invisible is a concept I like to ponder from time to time. Usually when we have one of those "if you could choose a superpower…" discussions that probably happen more often that they should. It'd be cool to be able to move around unseen, sure. But I'm not happy with the chilliness factor. Or being barefoot. I don't like being barefoot. At all.
But there are pretty obvious reasons why being invisible would be a handicap rather than a benefit. The least of which would be people bumping into you because they couldn't see you. You'd be permanently jostled. But then, walking would be a problem. You couldn't see where your feet were and I guess you'd be off balance, or at least walking slowly and gingerly. You might well starve because you couldn't judge distances to reach for anything with your hand again because you couldn't see it. Mostly, though – I think you'd either go blind or crazy. Probably both. You'd literally be able to see through your eyelids. Sleep deprivation? Bright light? Which would get you first?
Of course, H.G. Wells considered the risk of insanity in his original novel. Claude Rains was clearly off his rocker in the Universal Pictures film of 1933, as was Kevin Bacon in The Hollow Man. Chevy Chase seemed to have a better time of it in John Carpenter's Memoirs of an Invisible Man, and now we have a brand spanking new vision (see what I did there?) in Universal's latest run at relaunching the monster movies that put them on the map ninety years ago.
There have been a few attempts at relaunching the Universal Monsters, but they seem to stumble on the notion of making them adventure films, rather than the morality tales they tended to veer towards. We've has The Mummy movies with Brendan Fraser, and the highly anticipated Mummy with Tom Cruise which was supposed to kick start a franchise of Universal's Dark Universe which would eventually see various monsters meet up, as they did in the forties – but it came to nothing and wandered off into obscurity, trailing its bandages sadly as it went.
Now Universal have teamed up with Blumhouse Productions to take another run, and optimism is high. Blumhouse tend to be reliable horror merchants and this might be a partnership made in heaven for us monster fans.
I mentioned the 1933 Invisible Man with Claude Rains earlier. That was a 1933 production directed by James Whale. In it, Rains plays Jack Griffin, a scientist who takes a serum and becomes invisible, but becomes a dangerous, murdering lunatic as a result. Tracked by his footprints in the snow, he is eventually killed and regains his visibility. (There will be more about this film later on in the year.)
So – the new version?
After a clever title sequence where the invisible titles are revealed by crashing ocean waves, we see a high tech, house worthy of Tony Stark on a clifftop, and follow a young woman as she stealthily leaves, under cover of darkness.
Nothing has even happened yet and we're on the edge of our seats. We don't know anything about her, there's no dialogue, but we know without a shred of doubt that she's in danger and she's escaping.
This is Cecilia (Cee) Kass (Elizabeth Moss) who has drugged her abusive boyfriend, a millionaire optics genius named Adrian Griffin (Oliver Jackson-Cohen), with Diazepam so she can get away. But her problems are just beginning.
The film struck me as a cross between The Invisible Man and Sleeping with the Enemy. Cee is escaping a life where her every move was watched and controlled by a brutal psychopathic boyfriend who provided a luxurious life, but at a tremendous cost of physical, emotional and psychological torture.
When she's told a few weeks after her escape that Griffin has died, apparently of suicide, she begins to relax – unwisely.
Griffin has, unlike previous incarnations, developed what appears to be a leather suit with a mark, all covered in tiny cameras. This makes a lot more sense than some kind of invisibility serum. And he uses this suit to wage a psychological war on Cee like none she's ever been through before.
This is in every way a proper horror film, and a horror film for our time. Taking a well-established trope that has been around for decades and makes something new, more sinister and threatening with it. Hollow Man was an amazing film, and the effects were unsurpassed, but the story wasn't really THAT different. But this version is a masterclass in how to turn up the paranoia gradually. I found myself scanning the screen for any indication that Griffin might be there, somewhere – even when he wasn't.
I think the most unnerving and subtle shot in this incredible build up is when all is quiet, and we see a cloud of breath appear in the cold air just beside Cee.
Add in the stunning portrayal of a woman watching her life unravelling, while she pleads with an unconvinced word that there's an invisible man after her, while his campaign of terror gets worse and worse, along with the sense of palpable menace and unease created by director Leigh Wannell, well if THIS is the standard Universal are playing to in order to revive their monsters, then count me in for ALL of them. No question about it.
The future looks especially bright, as Wannell is reportedly eyeing up Dracula as his next project for Universal.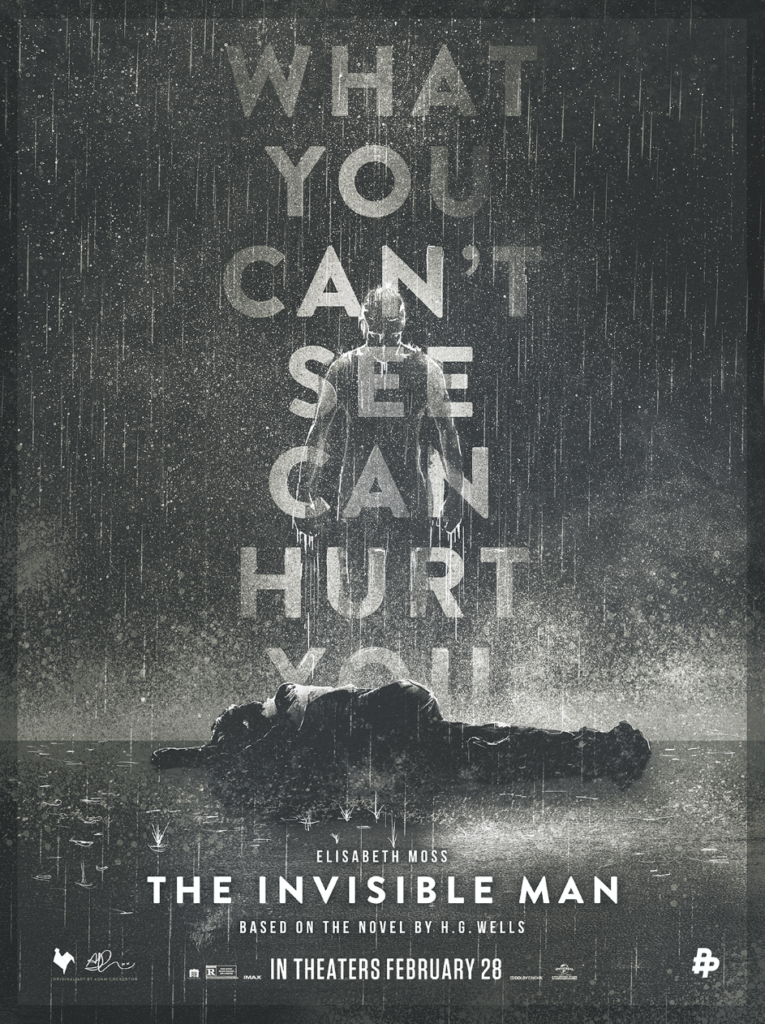 Copyright © 2010 - 2020 Robin Pierce. All Rights reserved.