"I'll try to be more….human" – Doctor Wilfred Glendon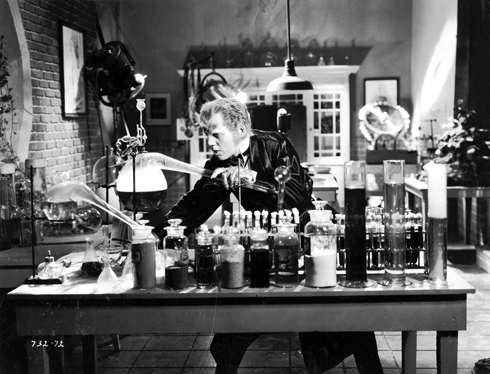 In 1935, Universal Pictures decided to introduce another character that would become a heavyweight in their roster. But like The Mummy in 1932, this first entry into the world of the lycanthrope is undoubtedly a classic, but doesn't figure in the ongoing continuity that would happen later in the early forties. This is a standalone.
It's also Hollywood's first werewolf movie, but understandably, all the trappings and tropes aren't there yet. Screenwriter Curt Siodmak would introduce those when he wrote The Wolf Man (1941). So there's no gypsy curse, no aversion to silver, no pentagram and no "even a man who is pure in heart…." traditional rhyme which were all made up by Siodmak.
The film starts with a botanical expedition in Tibet, led by Doctor Wilfred Glendon (Henry Hull). Well, they say it's Tibet – but Vazquez Rocks immortalised as several "Class M" planets on Star Trek are unmistakeable in the background. Glendon and his crew are looking for the elusive Mariphasa plant, which will only bloom under a full moon. As Glendon and his assistant find the flower, despite feeling a force pushing them away, they are attacked by a snarling, furry bipedal creature who's been stalking them. Glendon is cut deeply on his arm as he is bitten.
Back in London, during an afternoon garden party, Glendon is approached by a mysterious Doctor Yogami (Werner Orland) who helpfully tells Glendon that they've met before, in Tibet (hint, hint) and his injury is werewolf a werewolf bite which will cause Glendon in turn to become one when the moon is full. The Mariphasa flower is the only known antidote. But – it's not a cure, it's a temporary solution. What you have to do is cut off the blossom, and stab yourself in the arm with the stalk. One shot per flower – no sharing needles here, folks. Oh – and one other thing, and perhaps I should've led with this, a werewolf instinctively seeks to kill the thing it loves most.
Glendon as a beautiful young bride Lisa (Valerie Hobson who seemed to be Universal's go-to bride for crazed scientists in 1935, having the same year played Baroness Frankenstein). Glendon, despite being something of an uptight pompous prick jealously guards his wife (Hobson was only eighteen at the time of filming, just after her appearance in Bride of Frankenstein). So when he's coaxed out of his lab, where he's trying to get the Mariphasa to bloom under artificial moonlight, for this party – he's a bit of a dick when he sees Lisa is getting along famously well with Paul Ames (Lester Matthews – who had earlier in the year been menaced by Karloff and Lugosi in The Raven) an ex-boyfriend of hers.
Well, petulantly refusing to go to an evening party with Lisa and Paul – Glendon sits brooding in his study and begins to transform. He's not able to use the Mariphasa to quell his animalistic rage because the dastardly Doctor Yogami has earlier sneaked in and stolen both blooms for his own use, to prevent himself becoming a werewolf. Although Glendon crashes the party, he doesn't hurt anybody and goes and kills a young girl on a street instead. Now, I'm not sure if SHE would then turn in to a werewolf. I guessing not, as she didn't survive the attack.
There is one bloom left – but that darned Yogami sneaks in to steal THAT too but is caught in the act. Just as Yogami is injecting himself with the stem, Glendale turns fast and furry-ous and kills him, then traces Lisa and Paul who are out at the family mansion, despite Glendon's firm forbidding of such a thing, and Lisa's defiance.
Glendon, in full wolf form, attacks Paul but for some reason, doesn't kill him – then stalks the thing he loves most, Lisa.

He is shot in the back by the fine men of Scotland Yard, who arrive just in time and transforms back to human form saying his dying breath;
"Thanks... Thanks for the bullet. It was the only way... In a few moments now... I shall know why all this had to be. Lisa... good bye. Good bye Lisa. I'm sorry I... I couldn't have made you happier."
My main criticism of the film, though it isn't actually a criticism, it's more observation/wishful thinking is that as good a film as it is, how much better it would have been has James Whale directed it. There's a comedy sequence involving two gin soaked old biddies one of whom rents Glendon a room, and these women are comedy gold, as they keep punching each other in the face and stealing each other's gin. Under Whale, one would undoubtedly have been played by Una O'Connor and funny as they are, Whale would've made the whole thing quirkier with his uniquely eccentric style.
Copyright © 2010 - 2020 Robin Pierce. All Rights reserved.