"She was beautiful when she died – a hundred years ago" – Prof. Van Helsing



This was the last monster movie that was produced under the auspices of the Laemmle family. A series of bad investments had left the studio ripe for takeover and the monsters took a vacation until 1939. So, Dracula's Daughter was a last gasp for a while and closed the coffin lid on Universal's Golden Age. (Not to worry – there were further treats ahead in the Silver Age as we shall see.)
Dracula's Daughter starts seconds after Dracula (1931) finished. We assume that Jonathan Harker and Mina Seward have wandered off to live happily ever after and somehow avoid the two members of Whitby's fine police force that arrive to find Professor Van Helsing (Edward Van Sloan) still at the scene with the body of Dracula still in his coffin with the stake in his heart, and poor old Renfield. (Neither Bela Lugosi nor Dwight Frye appear in the film, though I have to admit that in a later scene, the dummy of Lugosi is a remarkable likeness.)
Van Helsing is immediately arrested and Scotland Yard summoned to investigate this dastardly deed.
However, the case takes a weird turn when the body goes missing – taken by the Countess Maria Zaleski, (Gloria Holden) who intones a ritual over her father's body as it burns on a pyre;
"Be thou exorcised oh Dracula, and thy body long undead find destruction throughout eternity in the name of thy dark unholy Master. In the name of the oh holiest and through this cross be the evil spirit cast out until the end of time".
Like her father, Maria is cursed with vampirism – but she holds on to the hope that now he's finally dead, her curse will be lifted and she can live a normal life. With her servant Sandor (Irving Pitchell) she heads back to London. Meanwhile, Van Helsing is at Scotland Yard, in the office of Commissioner Sir Basil Humphrey (Gilbert Emery – who slurs his lines like he's had a shot or three before the cameras roll). Sir Basil is trying to reason with Van Helsing, and tells him he can either be tried for murder (but the body's missing) or he can continue his wild stories of vampirism and be committed to an Institute for the Criminally Insane. Van Helsing mumbles that the strength of the vampire is that people to not believe in them, and says he wants Jeffrey Garth (Otto Kruger) to help him. Garth isn't a lawyer, though – he's a psychiatrist and old student of Van Helsing.
Sadly, Sandor is persistently miserable and discouraging when it comes to Marya's optimism that the curse of vampirism has died with her father. Despite Marya's best efforts to convince herself otherwise, a normal life is not for her. She tries to play a cradle song on a piano in an unintentionally funny sequence where Sandor puts a morbid spin on everything she says;
Countess Marya Zaleska: You think this night will be like all the others, don't you? Well, you're wrong. Dracula's destroyed. His body's in ashes. The spell is broken. I can live a normal life now, think normal things. Even play normal music again. Listen. A cradle song. A song my mother once sang to me long, long ago, rocking me to sleep as she sang in the twilight.
Sandor: Twilight.
Countess Marya Zaleska: Quiet. Quiet. You disturb me. Twilight. Long shadows on the hillsides.
Sandor: Evil shadows.
Countess Marya Zaleska: No. No, peaceful shadows, the flutter of wings in the treetops.
Sandor: The wings of bats.
Countess Marya Zaleska: No. No, the wings of birds. From far off, the barking of a dog.
Sandor: Barking because there are wolves about.
Countess Marya Zaleska: Silence! I forbid you!
Sandor: Forbid? Why are you afraid?
Countess Marya Zaleska: I'm not. I'm not. I found release!
Sandor: That music doesn't speak of release.
Countess Marya Zaleska: No. No! You're right!
Sandor: That music tells of the dark, evil things, shadowy places.
Countess Marya Zaleska: Stop. Stop! STOP!
That exchange cracks me up every time I watch the film.
Anyhow, she goes out on the prowl and with the aid of her hypnotic ring, she bags a male victim.
Meanwhile, Garth is trying to help Van Helsing, but as a young socialite about town, he attends a vacuous party with the rich and useless and soon meets the Countess. To Garth's girlfriend/secretary's chagrin, Marya homes in – as he's a psychiatrist, she thinks he can help her with her problem.
The Countess's next victim brought the film some controversy – as a young girl named Lili (Nan Gray) seems to be contemplating suicide but is persuaded by Sandor to visit the Countess's studio to model. (Yeah – "model").

The implied lesbianism became a selling point for the film in the mid-thirties, despite the sequence being so innocuous it can be easily missed. Lili is discovered later, in a catatonic state and comes to the attention of Garth, who tries to revive her with hypnosis.
It's becoming clearer that Marya is the vampire they're looking for, and she kidnaps Garth's girlfriend Janet (Marguerite Churchill) to use as leverage. Her life for Garth's Garth to become a vampire and live with the Countess for all eternity. (Actually, that's not a bad deal, Gloria Holden wasn't bad looking). But Sandor is outraged. She had promised HIM eternal life. (Understandable, you don't want that miserable, clumsy clod underfoot forever.)
Marya heads off by plane with Sandor and their captive to the family home in Transylvania with Garth and the Yard, plus Van Helsing in hot pursuit.
Ultimately, Van Helsing's sage advice isn't needed. Garth surrenders to the Countess to save Janet, and as Marya moves in to seal the deal, Sandor accidentally shoots her through the heart with a wooden arrow from a crossbow. (Told you he was clumsy, didn't I?).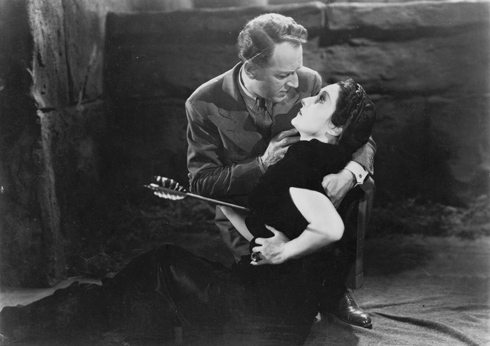 Sandor is shot by Sir Basil, Van Helsing is vindicated, Janet comes out of her trance and Universal's Monsters took their leave for a couple of years. But check back tomorrow when as far as Shocktober is concerned it'll be 1939 and we'll be meeting another offspring in a real classic.


Copyright © 2010 - 2020 Robin Pierce. All Rights reserved.