"You've got to be alive to do that! Red's been dead since two months." – Eric Marnay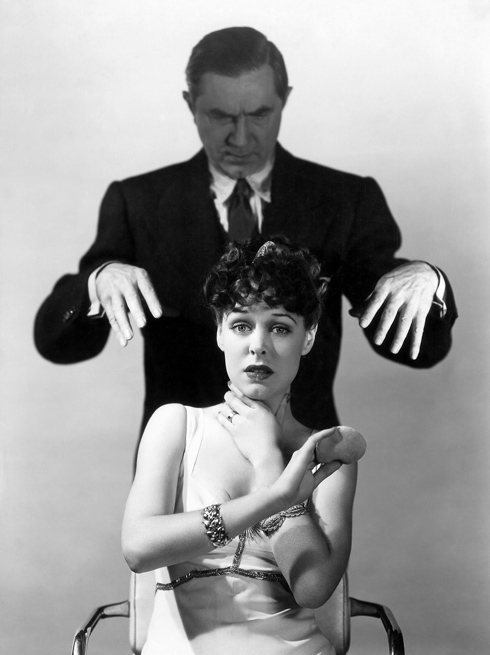 This is the other film in the line-up that I'm watching for the first time – and though it's a good, absorbing story – it's also a series of odd missed opportunities. See that quote I used as an intro above? That's a line uttered by Bela Lugosi. As a gangster. An American gangster with a heavy Hungarian accent. If you're thinking why would Lugosi play a gangster, and why would I insert a gangster movie in my annual horror festival, then let me try and sort out the tangled mess that became a pretty decent film, against the odds.
Black Friday was the last time Universal would team up their terror titans Karloff and Lugosi, and sadly, the actors would share no scenes together. Gone were the days of The Raven, The Black Cat and The Invisible Ray. Karloff was a bonafide star, but the recent drought of horror had really damaged Lugosi's career. With his accent, he was seen as a horror villain and not much else. Work became hard to come by. Black Friday was intended to reverse Lugosi's fortunes and put him back in the limelight along with Karloff, who'd never left it.
Originally, Lugosi was cast as Dr Ernest Sovac. A brain surgeon with a back story of having been a leading specialist of his field, practicing in Vienna who'd had to flee before the Nazi occupation. Meanwhile, Karloff was Professor George Kingsley, a kindly professor of English Literature and best friend to Sovac. So far, that looks great and has the makings of one of their classics.
But after the first day of shooting, it was realised that as the part of Sovac was a dual one, Karloff was having problems. Recasting needed to happen.
The film is told in flashback, as Sovac is led to from death row to the electric chair.
The character of Kingsley is gravely injured when he's hit by a car driven by a gangster in a car chase. In watching this scene, I'd be surprised if the stuntman taking the hit wasn't also gravely injured – he seems to take a pretty solid sideswipe in full view of the camera, centre screen.
Kingsley has suffered a brain injury, meanwhile the gangster has survived the crash but is paralysed due to a spinal injury. Sovac realises that the only way to save his friend is to perform an illegal brain transplant, but in secret. Nobody will miss the gangster because as they say, all he had to live for was a date with the electric chair.
As the film progresses, Kingsley becomes at times possessed by the personality of the dead gangster Red Cannon whose brain is now in Kingsley's skull. Sovac reasons that if cannon's personality is there, he might still retain the memory of where he stashed $500,000 that everybody was after him for, including his rival for gang leadership Eric Mornay. Sovac wants to tease these memories out, because with the money, he can finance a new laboratory and his research. So, Kingsley unwittingly becomes a guinea pig in an experiment.
After that first day, Karloff requested and got Lugosi's role as Sovac because he couldn't convincingly manage the transition from kindly professor to homicidal gangster. His English accent was too pronounced to start with, and his gentle manner and corrected lisp was perfect for any number of horror roles – but not for a smart talking New York gangster. And the backstory of fleeing Vienna was abandoned, of course.
I'd like to report that the result was a straight swap, with Lugosi becoming the English Literature professor (maybe HE had fled Vienna?) but no – a character actor named Stanley Ridges was brought in for the role. Ridges does an amazing job in both roles, becoming the gangster with a minimum of subtle make-up changes and darker hair.
Lugosi was offered the supporting actor role of American gangster Eric Mornay (who didn't seem to have fled from Vienna). It's good to see Lugosi in any film, but this move seems to be unnecessarily cruel and demeaning. He does his best but is obviously under-used in a meaningless role.
His best scene is his death scene, where he's locked in a pantry and left to die. In filming this scene, an elaborate publicity stunt was carried out where a hypnotist convinced Lugosi that he really was dying to get a better sense of realism. (It has since been confirmed that Lugosi wasn't really under the hypnotist's influence, it was just staged to excite interest in the movie.)
So why is Sovac on death row? Well, after a lot of homicides among the gangsters and their molls, the character of Cannon seems to regress and Kingsley becomes himself again. Until he hears a police siren, which reactivates his Cannon persona and he goes after Sovac looking for his money.
Sovac shoots him in self-defence, and is consequently tried for murder and sentenced to death.
And THAT's how you make a gangster/horror movie, kids. For all it's problems during production it's a fast paced seventy minutes with a high death count for a Universal movie – ten.
Karloff and Lugosi would of course work together on films at other studios with Lugosi sadly succumbing to ever diminishing roles, but this was the end of their teaming at Universal.


Copyright © 2010 - 2020 Robin Pierce. All Rights reserved.