"Whether you can believe it or not, the facts are here and we've got to face them. A creature that's been alive for over 3,000 years is in this town." – Sheriff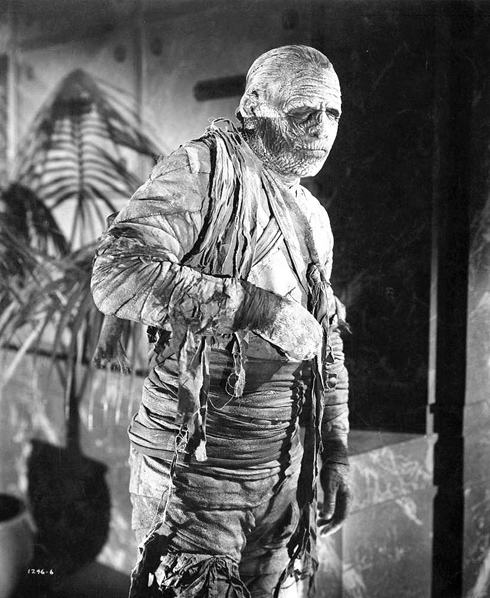 Fresh from Wolf Man in late 1941 and an appearance as the Frankenstein Monster in early 1942, it was time for Lon Chaney to assume the mantle – or bandages – of yet another of Universal's Monster stable. The Mummy became, after Larry Talbot, Chaney's best-known role in three films This one in 1942, and another two which were both released in 1944.
Chaney detested the role (roll?) of The Mummy, though. Despite the fact that during his run (or shuffle) in the part, Jack Pierce simplified the costume. By the end of the series, it was a one-piece bandaged suit, with, at times, a zipper visible in the back and the intricate make-up was replaced with a full head mask. It was clearly based on a cast of Chaney's face – the jowls were a big giveaway. This is a role where Chaney's height and stockiness were used to better effect. The Mommy is a pretty powerful and unstoppable threat, rather than Karloff's spindlier, crumblier version.
As for the film itself – it's the first of a few Universal Monster movies to clock in a very brisk and breezy 61 minutes – and there's barely a second spared. This is just as well because the first eleven minutes are spent in a lengthy recap of The Mummy's Hand (1940)
I have to say that this was only the second time I've watched any of the Lon Chaney Mummies – and this one was a lot of fun. I hope the other two are going to be as great when I get to them later on in this Shocktober series.
So, we kick off with the lengthy flashback I mentioned. This is in the form of a story being told by Steve Banning (Dick Foran) the archaeologist from The Mummy's Hand now aged, telling a group including his son and his fiancé the events that transpired on that fateful expedition. Thirty years have elapsed since those days which although a charming plot device, isn't properly addressed. Hand was set in the modern day – which would set this film in 1970. Nothing futuristic is seen, but we are aware that the war is still going on because Banning's son is called up to duty. Trifling matters though, because dastardly deeds are afoot.
Meanwhile, in a secret tomb in Egypt - we thought Andoheb (George Zucco), the High priest of Karnak had perished after taking a few bullets at point blank range and tumbling down from the top of the tomb. He was injured but survived – now old and at the end of his life. He hands over his responsibilities to maintain The Mummy Kharis (Lon Chaney) and the secret of the Tana Leaves to Mehemet Bey (Turhan Bey). Three to keep him going, nine to give him motivation.
The fact that Kharis looks a little different now is explained away as being damage inflicted by the fire that consumed him in the previous film.
Andoheb's dying wish is that the infidels who desecrated the tomb be put to death, and so he dispatches Bey and Kharis to find them in New England.
The film moves along at a breakneck speed from here, with Bey taking the post of a local graveyard caretaker outside Banning's home town of Mapleton. From there, Bey sends him out nightly on a deadly mission. First up is Banning himself, on the second night, his sister. The only clue to the killer is a grey dust found on the throat of the victim.
The scenes showing the Mummy shuffling along, dragging his dead leg behind him through a cemetery, going along a bridge or along the main street of a small American town are the most memorable scenes in the film, as he closes in inexorably on his unsuspecting victim. What isn't clear though, and I'm not trying to poke holes in the movie, is exactly what Kharis is homing in on. It was previously established that he was following the Tana Tea – a small vial of which was hidden on or about the victim. There's nothing like that here.

Bey as much of a victim of his own libido as his predecessor was. He quickly abandons his vow of celibacy and decides after catching sight of Banning's son's fiancé Isobel (Elyse Knox) – he wants her for himself and dispatches Kharis to abduct her so he can make both her and himself immortal, the horny devil. But Kharis is spotted walking away slowly carrying Bey's prize and the townsfolk are alerted.
The way the townsfolk solve the mystery of the killer and lately kidnapper is a bit xenophobic and decidedly dubious to be honest. The clueless mob (all of whom are carrying blazing torches like a Klan mob) decide that it must all be the doing of that foreign fellow who's the new cemetery caretaker, so with no further proof needed, they charge over to the graveyard to confront him. Someone could've easily followed Kharis – he's not sprightly.
Okay, so Bey's attitude after first denying all knowledge, he becomes decidedly sassy and confrontational (despite having Isobel tied up in the mausoleum) but it doesn't justify being shot in the back at point blank range by an elderly local hick with no repercussion or consequence.
For some reason, Kharis decides independently to carry Isobel off to the Banning home with the baying mob in hot pursuit. Okay, at Kharis speed, it's a lukewarm pursuit and having rescued Isobel, they set the mansion on fire along with Kharis.
Banning Junior and Isobel head off to be married and presumably fight WW2 as he's been called to service in the Medical Corps.



Copyright © 2010 - 2020 Robin Pierce. All Rights reserved.