"You'll love it here when you get used to the dark. And you'll love the dark, too. It's friendly and peaceful. It brings rest and relief from pain. It's right under the Opera. The music comes down and the darkness distils it, cleanses it of the suffering that made it. Then it's all beauty. And life here is like a resurrection." - Enrique Claudin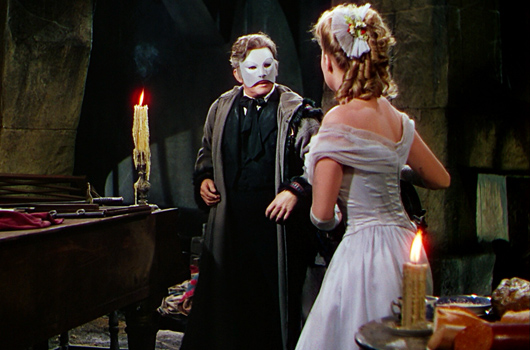 In retrospect, maybe I should've gone with the silent Lon Chaney version of Phantom of the Opera released in 1925. It has more of a gothic horror theme, but overall although far weaker and more watered down, the 1943 version certainly has its moments.
But in watching the movie this time, two things struck me. Lon Chaney became a horror icon in the role in 1925, Universal had his son, on contract, playing every OTHER monster character, why not this one? The second point was a realisation of the ingenuity in that silent film of successfully setting it against the backdrop of an opera – a sound medium.
And that leads me to the problem I have with the film. It's personal thing. I'm not an opera aficionado. The opera takes a large chunk of this film. In truth, the title character is a framing device for opera number after opera number after opera number. It's literally a version where the Phantom plays second fiddle to the singing. Most of the menace and sheer insanity of Erik, the Phantom as played by Chaney senior has been cast out, leaving Enrique Claudin, the Phantom as played by Claude Rains little to do.
Front and centre are Nelson Eddy as Anatole Garron a baritone leading man in the Paris Opera and shrill soprano Susanna Foster as Christine Dubois, an understudy with hopes of becoming an opera star. Eddy and Foster had recently jumper to Universal from other studios, so the original concept for this remake which involved Karloff as the Phantom were scrapped as delays meant Karloff became unavailable.
Despite all this, it's a lavish production, jarringly different from the other horror pictures Universal were pumping out at this time. Not only because of the reduced emphasis on horror and action, but this was a monster movie shot in glorious and vibrant Technicolor. And boy, Technicolor is used to stunning effect, highlighting the sumptuous settings and attention to detail. It's truly a feast for the eyes – especially when you see the detail and colours on the opera costumes and our all too brief glance at Claudin's underground lair. It made me wonder what the rest of the films in their Monster stable would look like had they been filmed in Technicolor. (I'm not counting the colourised versions of some of these films – I have zero interest in retrospectively adding colour to a film made in black and white. That practice should be outlawed.)
Whereas the silent Phantom was an out and out lunatic, this version takes a look at his origin and gives us a degree of sympathy for the character. Enrique Claudin is a violinist at the Paris Opera, who is dismissed from his position of twenty years in the orchestra when he begins to lose the use of his fingers. Claudin is broke, having anonymously funded the training of Christine Dubois to whom he's devoted. An abandoned sub plot had Claudin be her estranged father, and there are elements of this still in the dialogue, when it's revealed that both of them come from the same village and both are familiar with the lullaby featured in a concerto he has composed.
The concerto is the one thing that the suddenly unemployed Claudin can sell to make money to continue Christine's lessons, and keep a roof over his own head. But the music publishers are dismissive and downright insulting. When Claudin hears the haunting refrain of his music being played in another room, he mistakenly assumes his composition is being stolen and attacks the publisher and has a corrosive liquid thrown in his face. (What was actually happening was that his music was being played in the other room by Franz Liszt with a view to publishing it – Claudin would've made his fortune).


Claudin runs screaming from the building, in agonising pain, his sanity gone. He takes shelter in the sewers of Paris, making his way to a forgotten cavernous underground chamber of the Opera House. He begins to sabotage the productions in an attempt to blackmail the managers to give Christine the leading role.
Christine has two suitors – leading man Garron, the baritone and Police Inspector Raoul Daubert (Edgar Barrier) who both try and investigate the mysterious goings on. That is, when they're not engaged in a "comedic" rivalry which very quickly becomes tiresome and bogs the film down even more than the constant opera numbers which seem endless.
When his demands are not met, Claudin cuts the chain holding the massive chandelier above the audience and when it comes crashing down, he lures Christine to his subterrainean lair, where she'll sing to him and him only forever.

From above, they can hear Claudin's music being played on a piano, while Claudin plays along on violin. Christine takes Claudin's mask off, revealing some horrifying burns, but nothing even close to the living skull of Chaney's iconic Phantom.
Garron and Daubert arrive in time to fire a shot that is knocked off-target by Christine and hits the ceiling, where it causes a cave-in that buries Claudin.
And that's basically that. If you take out the singing and the leading men butting heads, you have a fifteen-minute movie of the actual Phantom of the Opera. Interestingly, there was a sequel planned, but it was abandoned, reworked and instead became a Karloff film called The Climax which also featured Susanna Foster (and it too was tediously overly operatic).



Copyright © 2010 - 2020 Robin Pierce. All Rights reserved.